Future Communities Vision
Young people's vision of fair communities in 10 years' time built on co-operative values.
A vision shaped by young people
Young people have a big stake in the future of our communities. They are the next generation of community leaders, pioneers and members.
That's why we co-operated with almost 100 young people from across the UK to develop our Future Communities Vision which will help us deliver on Co-op's vision of 'co-operating for a fairer world.'
These young people have had a direct role in our future direction and strategic priorities.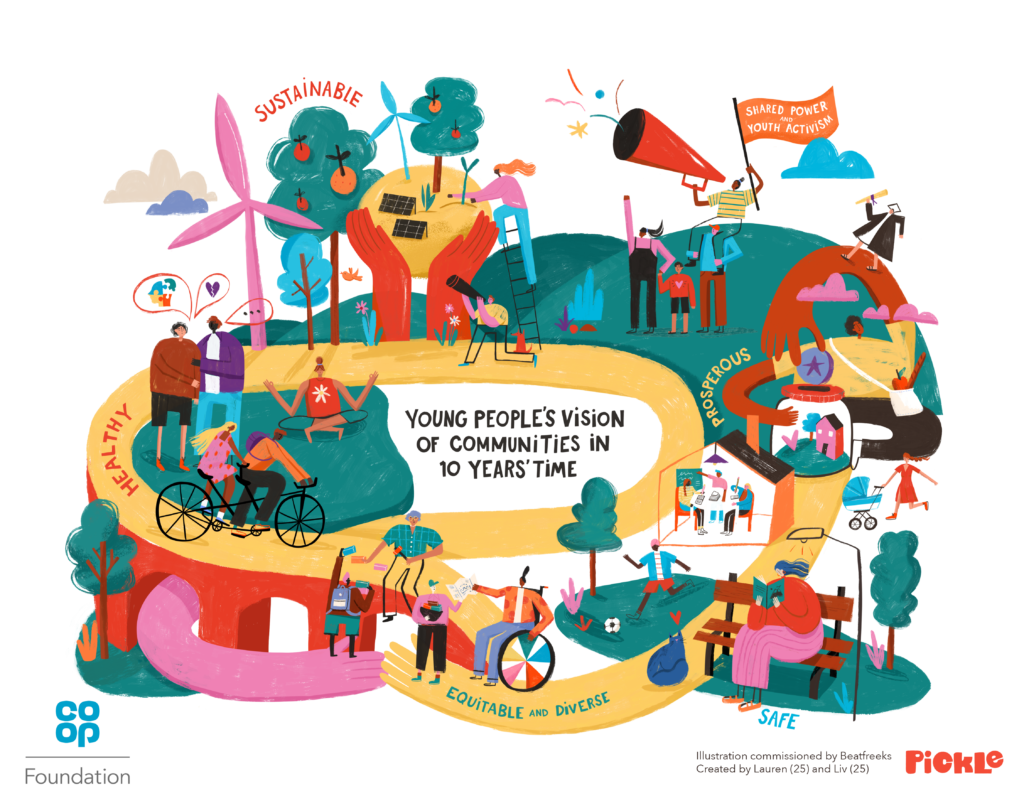 What young people believe communities should be like in 10 years' time:
"In 10 years' time our communities are fair. They are stronger because people come together to co-operate.
In 10 years' time, we all have opportunities to learn and thrive, incomes that are secure, and affordable homes, whatever our background. We feel safe and respected wherever we go. And even if we've made mistakes, we feel welcomed.
In 10 years' time, our communities are equitable. We celebrate our diversity and we educate each other so we can all feel included, appreciated and involved.
We prioritise our health and wellbeing. Everyone has the opportunity to get involved in physical activity, and we work together to strengthen our mental wellbeing.
In 10 years' time, we've made real strides to tackle the impact of climate change. And we're finding ways to live more sustainably, too.
With every passing day, our young voices have grown stronger. Power is shared more equally, and people act on what we say.
Ten years from now, we live in communities based on fairness, unity and co-operation."
Our strategic priorities
How we made it
In May/June 2022 we ran inclusive 'visioning workshops' with young people from aged 11 to 25 years old. Young people volunteered to help from all over the UK, including young Co-op Members, young Co-op colleagues and Co-op Academy students.
Watch the video to see behind the scenes of our visioning workshops.
LET'S BUILD COMMUNITIES OF THE FUTURE TOGETHER