One-of-a-kind fund putting young people in charge of positive change launches today 
16 November 2023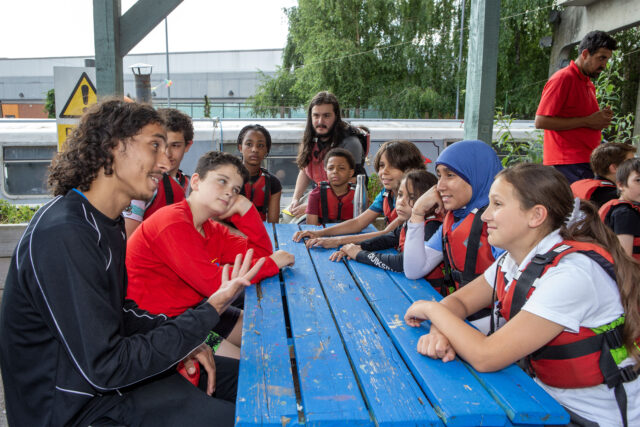 Co-op Foundation, Co-op, and #iwillFund are today launching a radical £4.5m fund to put young people right at the heart of change.
The Young Gamechangers Fund will offer grants of up to £20k directly to individual young people aged 10-25 – the first of its kind in the UK.
Funding will help individual young people to catalyse their ideas for turning their communities into safer, more sustainable and more inclusive places to live. Grants from the fund will also support youth led groups and organisations working to improve their communities.
Not only is the fund for young people, but it's also been designed by young people. A youth steering group of 13 young people aged 18-25 built the fund from the ground up – from design to influencing grant decisions – to completely reimagine how youth-led funding is delivered in the UK.
The ground-breaking initiative is funded by Co-op Foundation, the #iwillFund and Co-op. As a result of Co-op's unique naming rights partnership with the new Co-op Live arena in Manchester, Co-op Live will also drive youth social action through the Young Gamechangers Fund with a donation of at least £1m a year to the Co-op Foundation when it opens in 2024.
The #iwill Fund supports the aims of the #iwill Movement – to make involvement in social action a part of life for young people, by recognising the benefit for both young people and their communities.
The fund will be delivered by Global Fund for Children and Restless Development, who will work with successful applicants to provide peer support networks, training and mentoring to bring their vision to life.
Applications are now open. The steering group will prioritise support for young activists, co-operators and entrepreneurs who are committed to creating communities that are prosperous, safe, diverse, equitable and inclusive, healthy, and sustainable.
Young people aged 10-25 interested can apply here. Applications close on 14 December at noon.
Mariama, 20, steering group member, said: "There are loads of things that excite me about the Young Gamechangers Fund! One aspect of the fund that excites me is that it's youth-led!!! From designing the fund to the marketing of the fund – it's the young people who get to have the first and last say of the decisions being made – and I find that so empowering!"
Mya, 21, steering group member, said: "I think this fund has immense potential to implement youth-led change and impact. Age isn't a barrier for agency. This isn't just designed for young people – but it's by young people!"
Nick Crofts, CEO of the Co-op Foundation said: "For too long, young people have been left out of the decisions that affect them the most. Built by and for young people, our £4.5m partnership with Co-op and the #iwill Fund will fund individuals to make a real difference in their communities. The Young Gamechangers Fund is transforming how youth-led funding is delivered and will empower young people to build communities of the future together."
Rebecca Birkbeck, Director Community & Membership Participation at Co-op, said: "The launch of this unique fund will enable young people across the UK to act on the issues they care about and make a real impact in their local communities. A huge thank you to all of our Co-op members whose contribution has helped make this difference possible, showing true social value in action.
"Additionally, we're thrilled our partnership with Co-op Live will help to unlock funding through the Gigs that Give Back initiative when it opens next year, demonstrating our joint commitment to making a positive impact in the community, especially for young people."
Helen Whyman, head of the #iwill Fund, said: "Thanks to National Lottery players and DCMS, the work of the #iwill Fund continues to have an incredible impression on young people. This £66 million joint investment supports them to develop their skills, reach their potential and access high quality social action. It's inspiring to see young activists co-designing a new initiative to put young people at the core of change to create better, fairer communities."
Hayley Roffey, global managing director, Global Fund for Children, said: "Global Fund for Children (GFC) has been putting children at the heart of change for nearly 30 years. But youth-led change is chronically under-resourced. This is a chance to change this on a UK-wide scale. What the Steering Group has already created is inspiring and we are looking forward to seeing the creativity, joy, and passion young people across the UK bring to creating sustainable social change"
Alex Kent, co-CEO, Restless Development, said: "The Young Gamechangers Fund is an incredible opportunity to shift real power to young people – moving money, resources and decision-making to lead us through the challenges our communities face. Never has this fund been needed more, we're so excited to be delivering it this year.