Welcoming our new Future Communities Fund partners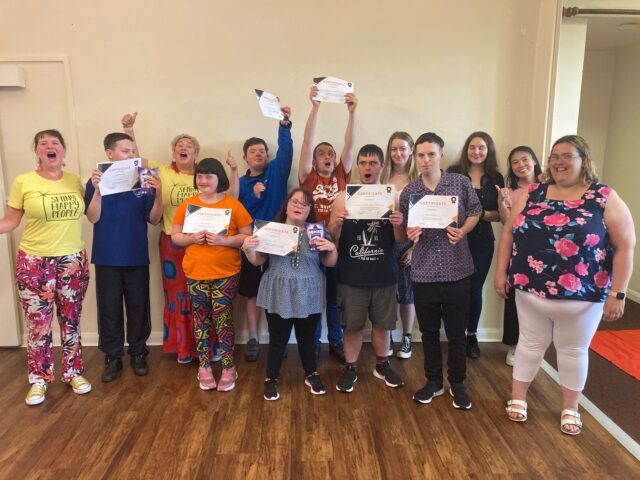 We knew when we set up our Future Communities Fund (FCF) that we wanted to deliver on being a different kind of funder; one that truly listened and learned from the communities we served.
That's why we piloted an all-new approach that saw young people take the lead in deciding which organisations we would support. This approach would ultimately help us to deliver on our Future Communities Vision, which we also created with young people.
And today, after much work, conversation and insight, we're proud to announce 13 new partners who'll receive a combined £1.4m over the next five years. I'm so grateful to our Future Communities Collective (FCC) for getting us to this point, and for the way they helped us to develop an entirely new way of working.
It goes to prove that when you co-operate, you really can build communities of the future together.
Our new partners
The Future Communities Fund is the first fund launched under our new strategy. Funding is targeted at delivering on two of our strategic priorities – prioritising youth activism and sharing power, and developing diverse, equitable and inclusive communities.
Grants awarded today are going to groups UK-wide with turnovers of less than £250k when they applied. They are all helping young people who face structural barriers into leadership positions, delivering on Co-op's vision of "Co-operating for a Fairer World".
The up-to five-year grants also follow our seven funding principles for co-operative funding. Funding is fully unrestricted, meaning any organisation whose primary mission was to deliver diverse youth leadership could apply.
This has led to an incredible variety of funded partners, listed below:
21 Together (Maidstone, England): A five-year grant of £150,000 will help the team provide training, therapy, resources, interventions, peer support and expert guidance for children and young people with Down's syndrome, their families and the professionals that support them.
Friends of Romano Lav (Glasgow, Scotland): A five-year grant of £97,500 will help this Roma youth-led organisation, challenging discrimination and promoting equality.
The Gina Project (Birmingham, England): A five-year grant of £132,842 will help support young people who are survivors of rape and sexual abuse.
Girls Into Coding (London/nationwide): A five-year grant of £75,000 will help the team to break down barriers and stereotypes that discourage girls from pursuing careers in technology and helps bridge the gender gap in STEM.
North West Migrants Forum (Derry, Northern Ireland): A five-year grant of £150,000 will support refugees and migrants.
Nurturing Foundations (Manchester): A five-year grant of £150,000 for an organisation to help young people, particularly those from global majority backgrounds to develop the aspirations, resilience, and skills to flourish and the confidence to play an active role in civic life.
Reestablish (Leeds): A five-year grant of £140,000 will empower young people affected by deprivation to discover and actively pursue opportunities to develop their potential while also helping others.
The RISE Collective (Bristol): A three-year grant of £30,384 will support disenfranchised 16 to 25-year-olds thrive personally, creatively and professionally. It will use RISE as a platform to challenge and re-imagine structures that perpetuate inequality.
RJ Working CIO (Redruth, Cornwall): A five-year grant of £107,000 will equip young people around "Restorative Practice" – a radical and exciting international model, developed in Northern Ireland. This gives young people with complex lived experiences who face discrimination the principles, language and confidence to build a more compassionate and fairer society.
Roar Pursuits CIC (London): A five-year grant of £150,000 will look to remove the barriers faced by vulnerable care experienced young people who are disproportionally impacted in their access to opportunities.
Skills and Volunteering Cymru (Cardiff, Wales): A three-year grant of £90,000 will provide support, free training and volunteering opportunities and experiences for young people to excel.
Step Now Global CIC (London): A three-year grant of £52,000 will use the power of relatability, role play and immersive experiences to mentor, educate and empower young people from disadvantaged backgrounds.
Youth Work Unit Yorkshire and Humber CIO (Leeds): A five-year grant of £60,000 will support a group of nine youth sector worker networks and youth voice social action groups made up of more than 200 young people. Work will encourage young people to participate in youth social action.
We look forward to working with you – and learning from you – over the coming years.
Learning from our experience
As funders, we take our role seriously – this is cash from our Co-op members after all – and it was tricky to entirely hand over the reins for the first time – even with a group of young people as amazing as our Future Communities Collective (FCC)!
Our pilot approach to our first strategic fund saw us handing over power to our FCC – a really insightful group of young people from diverse backgrounds – who were supported by HUDL youth development agency. In fact, we quickly found that things don't always pan out how we expect them to.
Here are a few bits of learning:
Participatory grant-making takes time: when combined with high volumes of applications (we had some learning on this front too) it quickly felt overwhelming trying to support our FCC in the nuts and bolts of grant making. This was made more difficult because they were involved after the fund had already been designed – they need to be involved earlier next time.
Allow space: It was a challenge to keep our mouths zipped when discussions were happening – but it was simply not our role to participate. Taking this step back allowed the FCC to flourish and make decisions based on their own perspectives, lived experiences and analysis of the risks and relative strengths of each organisation.
We can do [so much] more: to deliver participatory grant making with young people is more than funding decisions – their role can and should be shaped by them and what they're interested in being involved with at Co-op Foundation. We would love to see their roles going much deeper into all we deliver and hopefully they'll feel the same!
Giving away power and supporting youth activism is a huge and crucial part of our new strategy. This pilot approach has showed us how to bridge the gap between strategy and practical application, while gathering learning along the way.
We look forward to working further with the FCC and our new partners over the coming years. We'll share what we learn with you, too, as we support young people to become the leaders we all need.
Sign up to our blog to keep up to date with further funding opportunities and our journey towards becoming a youth-led funder.