Young people demand a fairer transition to Net Zero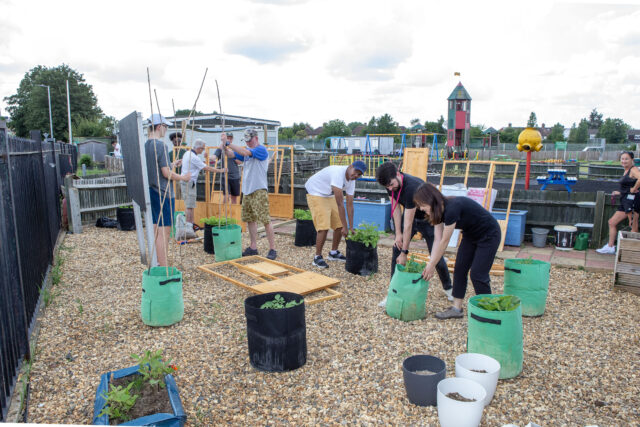 Vast majority (91%) believe young people should be involved in decisions on how to reduce the UK's emissions
Over three quarters (76%) are concerned about the UK meeting its Net Zero targets
Most (72%) see the transition to Net Zero as an opportunity for their generation, but over half do not know how to get involved
73% of young people are concerned that the transition to Net Zero will widen the class divide
Young people have revealed concerns that the pathway to Net Zero will exacerbate the class divide, according to new research from Co-op and its charity, the Co-op Foundation.
The study explored the views of 16-24 year olds when thinking about the journey to Net Zero, including the risks and opportunities for young people.
A climate class divide
The majority (73%) revealed concerns that impacts from the transition to Net Zero will affect some groups of people more than others:
A quarter (25%) felt those on lower incomes and/or from lower socioeconomic background will feel the brunt of changing to sustainable behaviours more than those on higher incomes.
One in ten (12%) expressed concerns over affordability of sustainability, with cost-of-living being cited the main concern for another quarter (25%) of people.
In response, those surveyed called for greater government action to ensure a just transition that is fair and affordable to all with*:
27% wanting subsidies for lower income families to help navigate the transition to Net Zero.
30% wanting governmental support for climate initiatives.
To help kick-start the conversation, Co-op Group CEO Shirine Khoury-Haq will be leading a discussion at both Conservative and Labour Party Conferences with panels featuring Kerry McCarthy MP for Bristol East and Shadow Minister (Climate Change and Net Zero) and Alexander Stafford MP for Rother Valley respectively; Dan Clay, Managing Partner at Basis Social – who conducted the research; as well as some of the young people who participated in the research.
Giving more power to young people
The study also revealed that while three quarters (76%) are concerned about the UK reaching its Net Zero target, there is a strong appetite amongst young people to help get there – with 91% believing that young people should be involved in decisions on how to reduce the UK's emissions and 75% being personally interested in being part of this.
Despite this appetite, four in five (79%) think that the UK government does not listen to 'people like them' when making decisions about Net Zero. There is also an apparent lack of confidence in their understanding of climate change and calls for greater education, with almost half (47%) stating a lack of education on the topic. Almost a third (30%) call for more opportunities to hear about possible jobs and careers in Net Zero for them to help the UK reach its targets.
Opportunity to co-operate
Despite these concerns, the vast majority (72%) see the transition to Net Zero as an opportunity for their generation, but over half (51%) do not know how to get involved.
This, combined with the strong desire amongst young people to be part of this transition and make a positive difference, is why the Co-op is helping to provide dedicated routes for young people to get involved.
In 2022, its charity, the Co-op Foundation, worked closely with 100 young people to develop its new Future Communities Vision and strategy that includes a commitment to help create sustainable communities. Young people continue to be involved in shaping its future direction and funds.
The Co-op Foundation, with their strategy, has also committed to investing in young people, leaders, innovators, co-operators, activists, including those with a vision and ideas to create sustainable communities. The Foundation is currently developing the first funding to individuals to support young people in bringing their ideas to life.
By purchasing a compostable bag in store, Co-op shoppers are choosing one of the best ways to reduce the environmental impact of carrier bags, as well as contributing to Co-op's Carbon Innovation Fund partnership with the Co-op Foundation, which is giving £3.5m in grants to help partners tackle carbon emissions in food and farming.
Co-op Members can also support environmental causes in their local area, with over £3.6m raised and 1,400 local community projects that focus on restoring, conserving and protecting the environment, supported by members.
Co-op has been supporting Co-op Academies working towards their Eco Schools Award, with some academies already having their Green Flag award. Co-op has also hosted two Eco Conferences bringing together Co-op Academies and partners including the RHS Bridgewater, Keep Britain Tidy, Fair and Funky to share best practice, ideas and inspire pupils and students across the Trust to get involved with activity around sustainability and climate change.
Shirine Khoury-Haq, CEO at the Co-op said:

"We are in the grip of a climate and nature crisis of humankind's making and urgent action is necessary. At Co-op, we are committed to addressing the urgent reality of climate change – grounding our approach to reducing our carbon footprint in science, a sense of what is fair and just for people as well as planet, and co-operation.

"It couldn't be clearer from this research that young people from all backgrounds care about climate change, despite other challenges they are experiencing at the moment. We've been campaigning for a just transition to Net Zero for a number of years, and while there will be many exciting opportunities as we progress on that journey, leaders in every sphere will need to ensure that fairness is a central consideration in the decisions that need to be taken."

Nick Crofts, Chief Executive of the Co-op Foundation said:

"At the Co-op Foundation we're aware of the importance of youth leadership to develop a fairer and more sustainable world for future generations. It's brilliant to see that young people want to become more involved in the transition towards Net Zero, and we want them to be able to take the lead on developing a more equitable and sustainable society. We need to give more power to young people through education, tools and increasing their agency to develop greener and more sustainable communities of the future together."

Dan Clay, Managing Director at Basis Social said:

"Hats off to the Co-op and the Co-op Foundation for commissioning this vitally important research. Much has been written about climate anxiety amongst young people in recent years. This research – which adopted a purposefully inclusive and creative engagement approach – shows that young people are more concerned than anxious and looking for opportunities to help with the transition to net zero in a way which is fair and helps us builds toward a more sustainable and equitable society. Thank you to all the young people that provided their views – you have been heard."
ENDS
Notes
*(Base: All those concerned about the fairness of the net zero transition, n 532)
About the research: Basis Social undertook the research between May and August 2023, which consisted of a quantitative survey and qualitative online community approach. The former was a representative online survey of 1,032 16-24 year olds in UK, while the latter featured 43 young people aged 15-25 years old, who joined a week-long online community to share their views on priority Net Zero actions. The community included representation from all UK nations including rural and urban areas.