Two Foundation trustees receive MBEs in King's first Official Birthday Honours List
16 June 2023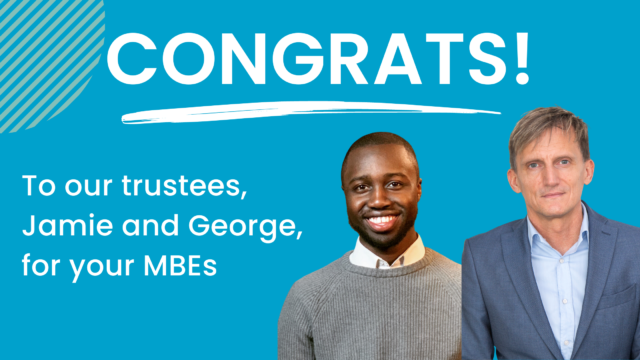 Jamie Ward-Smith, Co-op Foundation Chair since 2016, and George Imafidon have both received MBEs. Jamie's award is for services to young people and charity, while George has been recognised for services to engineering, technology and young people.
The awards follow distinguished careers for both Board Members. Jamie, 55:
Took on their first CEO role in their 20s supporting a local volunteering centre.
Co-founded and became the first Chair of the London Volunteering Network, which evolved into Greater London Volunteering (now called London Plus).
Co-founded, launched and led Do IT.org – the UK's first digital volunteer matching service. The tech behind this platform now powers 'Big Help Out' app.
Led communications at YouthNet (now The Mix), the UK's first digital charity designed to provide impartial advice and information for young people.
Co-established the Russell Commission, a national review of youth social action, that would lead to the creation of the vInspired charity (forerunner to the National Citizen Service).
Founded the Do IT Foundation – the first digitally powered grant-maker.
Jamie is also a Trustee at the Association of Charitable Foundations and London Cyrenians Housing. They have previously served on the board for Body Positive London – one of the UK's first self-help groups for people living with and affected by HIV/AIDS. Read more about Jamie's career in this Q&A.
George, meanwhile, is the CEO of Motivez, which supports thousands of young people aged 14 to 25-years-old to access jobs in STEM and become change-makers.  He is also a Performance Engineer with Sir Lewis Hamilton's racing team, and Board Member at The Hamilton Commission improving diversity in STEM and motorsport. George was also Young Engineer of the Year 2022/23, awarded by the Royal Academy of Engineering.
Jamie, who was briefly homeless as a young person, now lives in a tenant-run housing co-operative. They said:
"I'm shocked and thrilled in equal measure to be recognised in the King's first Official Birthday Honours List – I didn't think things like this happened to people like me. I am so passionate and have so much love for the charity sector and I'd like to thank every person who's helped me on my journey. Young people and the power of digital have been cornerstones throughout my career, and I hope to continue supporting both in any way I can in the coming years."
George added:
"I'm honoured and grateful to receive the MBE for services to young people and STEM sectors. It's been a privilege to use my voice over the last decade for so many of us who feel unseen, opening trajectories in STEM for communities traditionally far removed from the industry. I really hope this recognition can open more doors for those that are underserved and goes some way to instilling hope on their journey."
And Nick Crofts, Co-op Foundation CEO, said:
"Jamie's MBE for services to young people and charity is richly deserved and testimony to their incredible leadership and bravery. The Co-op Foundation would not be the force it is today without Jamie's foresight, passion and belief in co-operation. Thank you for being such an inspirational champion of young people, and for leading me on my journey as CEO. The Co-op Foundation team is so very proud of what you've achieved.
"George, meanwhile, is one of the most passionate and talented individuals I've had the privilege to meet, and his MBE for services to young people and STEM is an honour he can reflect on with real pride. George has provided real insight in his short time as a trustee, and we are stronger for it. Well done for everything you've achieved."
Allan Leighton, Chair of the Co-op, said:
"Jamie has been an inspirational chair of the inspirational Co-op Foundation. They really deserve this recognition."
The Co-op Foundation is Co-op's charity, and we're building communities of the future together.
We awarded £3.4m in grants in 2022 and released our new strategy, 'Building communities of the future together'. This strategy will see us trailblaze a bold and co-operative way of funding community groups and young people to build future, fair communities and deliver on Co-op's vision of 'Co-operating for a fairer world'. Jamie was part of the team who helped to build this strategy.
ENDS
To request interviews with spokespeople, please email Andy Mortimer or call 07702 603516.