The successes and challenges of going digital during covid
"Translating youth work into an online environment was a big learning curve. Although we found less young people engaged online than in-person, it provided a unique opportunity to talk in a way that broke down the barriers of face-to-face youth work. Our understanding of our young people is now at a different level." Carly Ewell, Chair of Ourside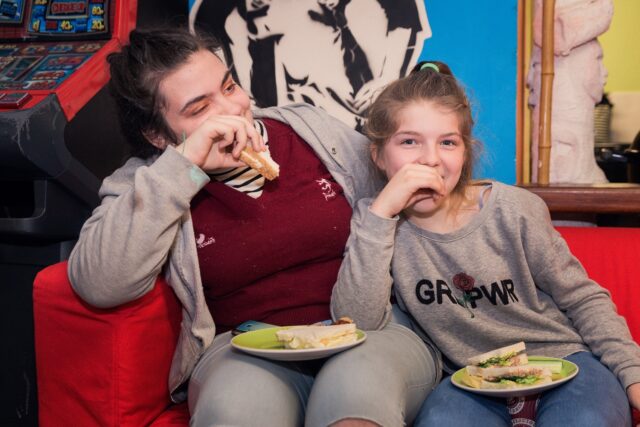 On 23 March 2020, life as we knew it in the UK changed forever. The coronavirus lockdown forced schools, colleges and youth groups to close while in-person interactions were suddenly a thing of the past.
For many organisations, this caused a pause in activity while new ways of working were developed. However, for our Building Connections Fund partner, Ourside, based in Evesham, in Worcestershire, it took just seven days for their youth work to move online.
"Translating youth work into an online environment was a big learning curve. It was actually the young people coming to Ourside who helped us to build our social media and online presence. It was great because it meant we were creating exactly what they needed," said Bev Wride, Centre Manager.
This change in output resulted in up to 20 young people attending regular online drop-ins during lockdown and more than 100 receiving relevant and trusted information on Covid. One of the young people said: "Ourside made lockdown a lot less daunting."
About Ourside
We've partnered with Ourside for the past two years. Our £40,000 grant has helped them to run pop-up youth clubs in schools to give young people a taster of their youth work provision, allowed them to work more closely with their Youth Committee to understand and define how youth loneliness could be addressed locally, and bring all their learning into practice.
Bev said loneliness was something affecting young people in Evesham, due to its location as a small market town away from the opportunities of a big city.
She said: "A lot of people ask 'what have young people got to be lonely about?' but we see the impact it can have. Young people come to youth centre and they're quiet and struggling to make connections. Our Building Connections Fund work has allowed us to support young people through a rocky time in their life so they can make their place in the community and society more positive. Tackling loneliness early and at the root cause can stop young people going down a difficult path.

"We're now seeing young people with the confidence to say it's 'okay' to be lonely. They have a greater awareness of it and a greater set of skills. Our Youth Committee members have acted as great ambassadors, too, by promoting an environment where it feels safe."
100 young people have joined in with Ourside sessions over the course of our funding.
Impact of Covid
Moving youth sessions to digital was a challenge when lockdown first hit. Ourside had fledgling social media accounts but needed advice on how to make it work for young people. This started by asking what the young people wanted and identifying the right tools.
Bev said: "We had to expand our online provision and we were a little anxious at the start about what to do. We began by asking young people, themselves, and they said they didn't just want to move to video calls. Instead, they wanted to keep connected through Instagram and they showed us how to make it work. We posted youth centre style activities, relevant advice and set up 'live hours' where young people knew a youth worker would be online to chat. It was all about connections.

"This expanded as lockdown continued. We also ran some activities online with youth workers creating videos and went into the community to deliver packages for in-person engagement. We wanted to recreate the 'safe space' of Ourside as best we could."
Learning
There were challenges to digital working during covid but also some successes that added value to Ourside's work.
Chair, Carly Ewell, said: "Although we found less young people engaged online than they did in-person, [going digital] provided a unique opportunity to talk in a way that broke down the barriers of face-to-face youth work. Our understanding of our young people is now at a different level.

"I'd recommend that any organisation looking to move into more digital youth provision should start small, listen to young people and grow from there. It can be overwhelming looking at how many digital tools are out there but keep it simple and keep asking what works."
Read more tips on remote work youth work from our Building Connections Fund evaluators, NPC.
You can also subscribe to our blog to find out first when new learning and new funding is announced.