Connecting and empowering: Supporting the youth sector to tackle loneliness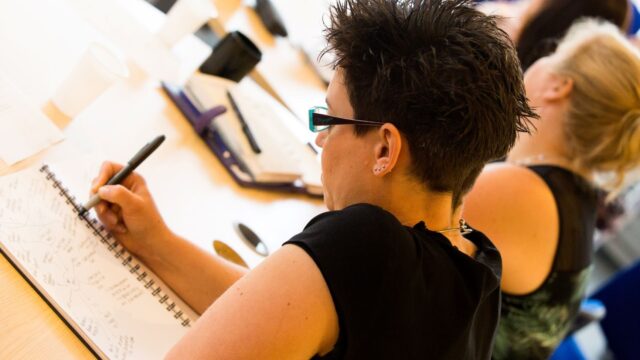 Since 2017, our £6.5m of grants awarded to Belong partners has enabled more than 26,500 young people to take part in projects to tackle loneliness.
Meanwhile, our Lonely Not Alone campaign has brought together young people to beat stigma, guided by the co-operative values of solidarity and caring for others.
Supporting both of these success stories have been UK Youth and the National Youth Partnership. We've worked with them since April 2019 to develop networks and resources to help youth workers co-operate and get better at identifying and tackling loneliness.
This is how they got on, and how we helped them to adapt to lockdown in 2020.
Belong Collective
"If we didn't have the Belong Collective, we'd have lots of different youth organisations doing their best to tackle loneliness but, potentially, peddling in different directions. We've built a space where everyone can move forwards as one," Anna Alcock, UK Youth Interim Head of Engagement and Advocacy.
UK Youth research into youth workers' perspectives on loneliness found that 87% would value more support addressing the problem.
Since 2019, their Belong Collective, funded through our Building Connections Fund partnership with Government, has been providing that support. It's brought together 288 youth workers across eight online and offline meetings to share learning, build relationships and offer peer support.
Anna said: "The Belong Collective brings together youth workers from different-sized organisations and with different levels of experience to share learning and techniques that they've found useful tackling loneliness. It's a place where youth workers can share insight, which helps to remove some of the inequalities of support being offered around the country."
Covid altered the focus of the Collective in 2020 as sessions moved online and discussion topics were adapted to the new world in which we lived. Early get-togethers in 2020 focused on mental wellbeing and digital inclusion while even more youth workers joined the now easily accessible online sessions.
Anna said: "Working online allowed even more people to join our Collective and we've had people call in from Penzance, Jersey and Australia.

"We've been on a really constructive journey. Lockdown has allowed us to be more innovative and interactive in the digital space and this has been backed up by the Co-op Foundation who were really flexible about our plans and output.

"By working together and co-operating, our attendees have made a network of their own and they're there for each other. It's become a movement."
Get involved in UK Youth.
National Youth Partnership
The National Youth Partnership, led by regional youth work organisation Youth Focus: North East, has been creating resources to upskill and empower youth workers to tackle loneliness since 2019. Work is informed by their lengthy experience delivering projects locally in the North East.
Youth Strategy Manager, Steve Watson, said: "Loneliness is a difficult subject that youth workers sometimes shy away from. But it's also a topic young people will talk about given the right support. However, there had been no central resource for youth workers to develop their learning and we wanted to create that."
Youth Focus: North East brought together a nationwide network of partners to develop the National Youth Partnership, including Youth Focus North West, the Yorkshire and Humber Youth Work Unit, Partnership for Young London, the National Youth Agency, Youth Focus: West Midlands and Youth Focus South West. They worked collaboratively, shared learning and tools and engaged young people for their insight to develop the much-needed central resource hub alongside new training and resources.
Kevin Franks, Deputy Chief Executive of Youth Focus: North East, said: "We want to help youth workers feel more confident supporting young people. Co-operation is a big part of what we've done, working with our partners and young people to raise awareness and help make difficult conversations happen."
Covid impacted on how the team made new resources in 2020 as social distancing made co-design with young people difficult. However, it also provided insight.
Steve said: "We worked with young people to develop resources that would help them to move into a 'new normal' after Covid but they didn't want a 'new normal'. For lots of young people, the 'old normal' wasn't a great experience so they actually wanted a 'new future' instead.

"Our support for youth workers can help develop this. Even really experienced youth workers can have gaps in understanding. Our resources and training will have a long-term impact on this at a time when it's needed most."
More than 2,000 people have visited the Tackling Youth Loneliness website since it launched. The team have also provided one-day training sessions on tackling youth loneliness to more than 70 youth workers.
Tools are coming to the website soon include resources co-designed with young people on tackling youth loneliness in the LGBT+ community, for those experiencing homelessness, care leavers and young people from military families.

Our work with the National Youth Partnership and UK Youth is funded through our Building Connections Fund Youth strand partnership with Government.
Head to our Impact Report to read more about what we achieved and learned with partners in 2020.