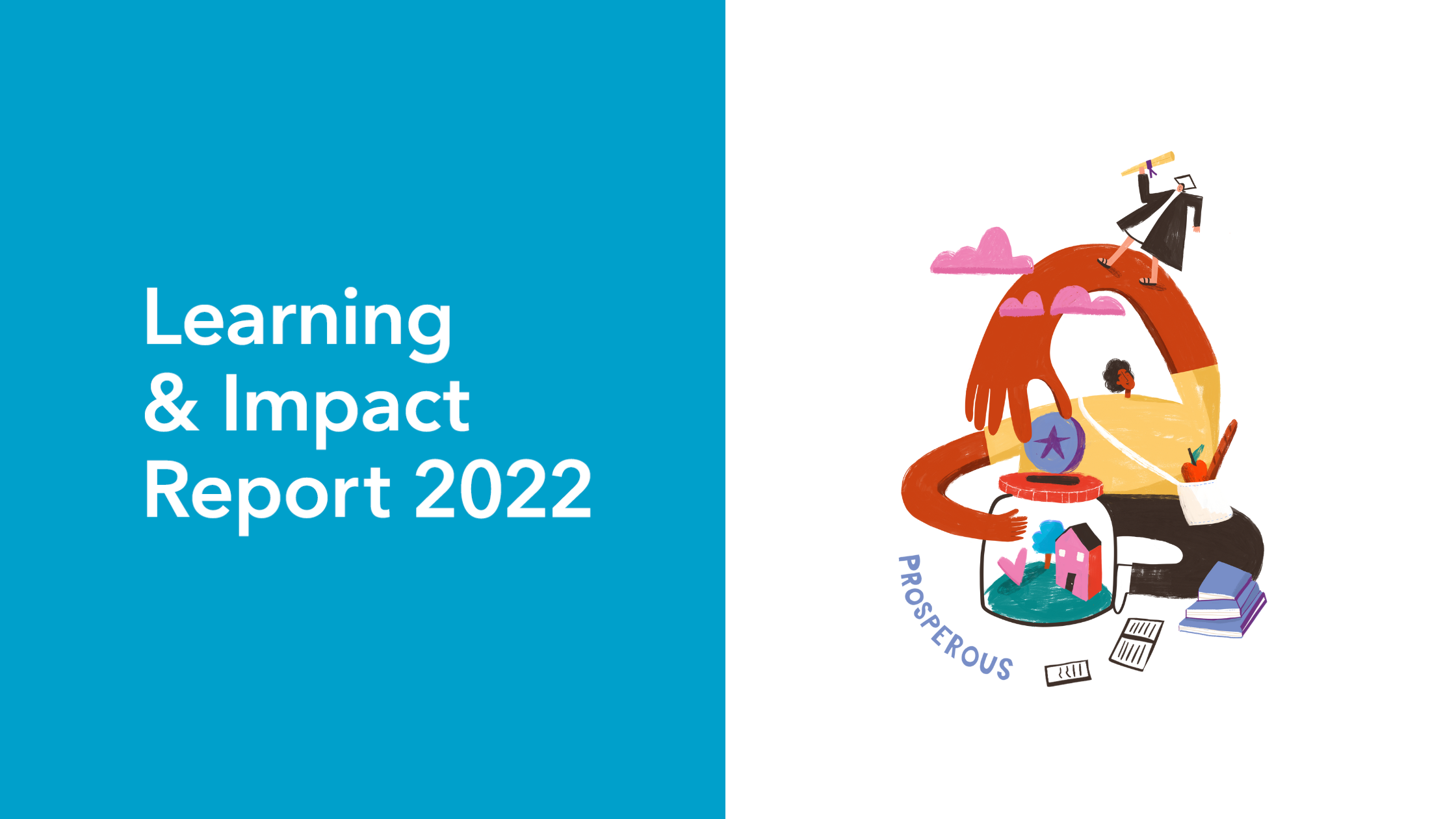 Empowering young people at risk of homelessness
Between April 2021 and March 2022, 129,000 young people faced homelessness in the UK.
Depaul UK is an organisation that specialises in supporting young people at risk of homelessness. In 2022, we supported them with a £300,000, three-year grant through our partnership with the Astra Foundation.
Our funding has helped the team to deliver its National Education Programme that provides support and education in secondary schools for young people at risk of homelessness. It also supports Steps to Success, which helps those experiencing homelessness better reach their goals and build a positive and independent future. It's all part of our wider commitment to building more prosperous future communities.
This is one young woman's story about how Depaul UK has supported her through Steps to Success.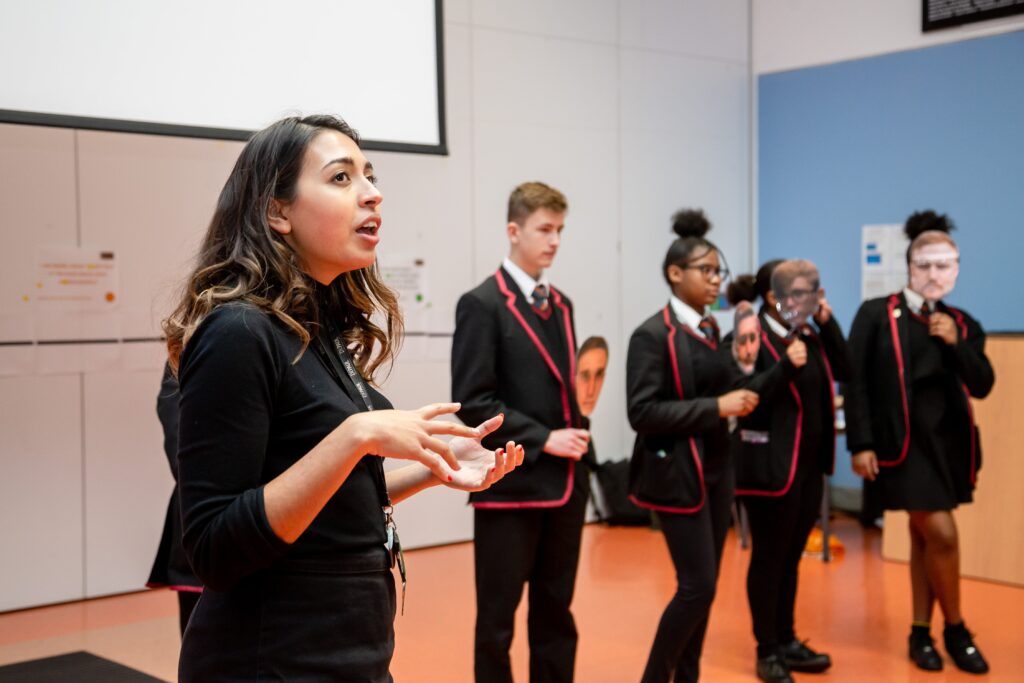 Mia*, 23, grew up in a very challenging environment. She endured an abusive relationship with her parents all her life and could not count on support from her siblings. Unfortunately, last spring after a confrontation with her mum, Mia ended up being kicked out of her home. After a difficult stay with a friend who was demanding too much money, and a short stay at a hotel, Mia found out about Depaul UK and got in touch.
*name has been changed for anonymity
A positive impact
After contacting Depaul UK, Mia was placed in supported accommodation and established a good relationship with her keyworker. She says support from Depaul UK has changed her life and her future:
"Moving into Depaul felt weird. It felt good to have somewhere more stable, but I felt bad that I was in a hostel. I just didn't feel like I was on the same level as everyone else. But I guess everyone probably feels like that.

"My keyworker was really nice. He was dead accepting and friendly. He made me feel a lot better about it, considering."
While being supported by Depaul UK, Mia finally had the time and space to focus on herself and her future. She soon realised that she wanted to get in an industry that would keep her busy practically.
Thanks to Steps to Success, Mia was on track to become an independent businesswoman. Depaul UK supported Mia to go to college where she obtained a qualification to work in the beauty industry. Her Steps to Success worker also helped Mia to develop a business plan, which led to her being granted a Steps to Success grant of £2,000 to cover her business start-up. This money would have otherwise taken her years to save.
"I genuinely believe that everything that happened last year was meant to happen as it all worked out. Depaul gave me access to go to college, then they helped me access the £2,000 business grant as well and helped me go to the Met Gala to get my business more out there. It's like it's all worked out. It's amazing."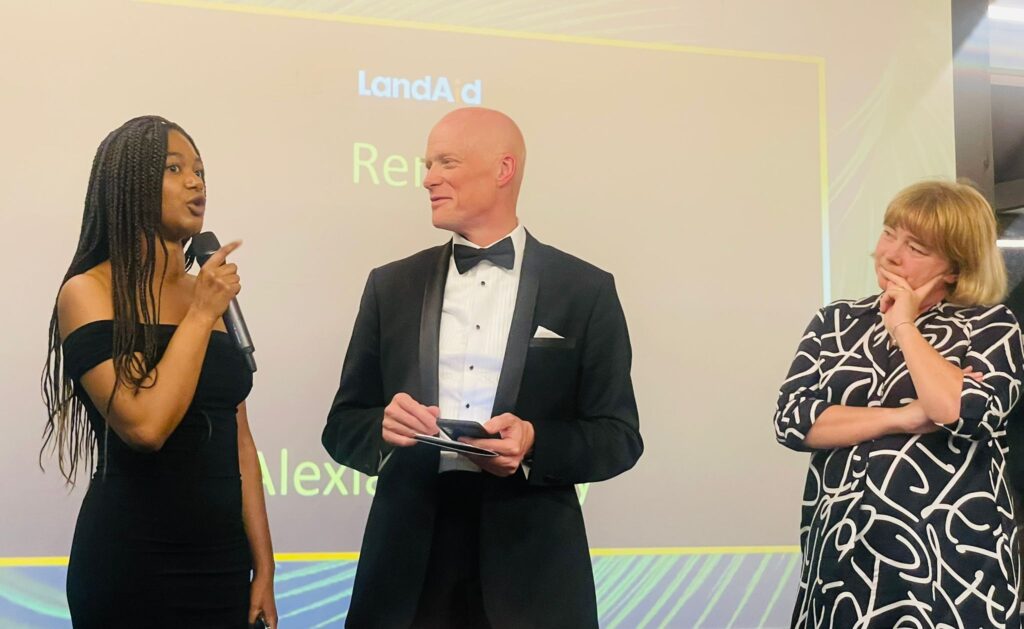 Now that her professional life is fully established and she has found stability in Depaul UK's accommodation services, Mia has also restarted contact with her mum, who reached out to her to try to mend their relationship. Mia is also going to therapy to heal from her past family trauma. Depaul UK's Steps to Success programme has certainly empowered Mia and helped her make a huge positive change in her life.
Helping young people
Last year, Depaul UK 's National Schools Programme, funded by Co-op Foundation…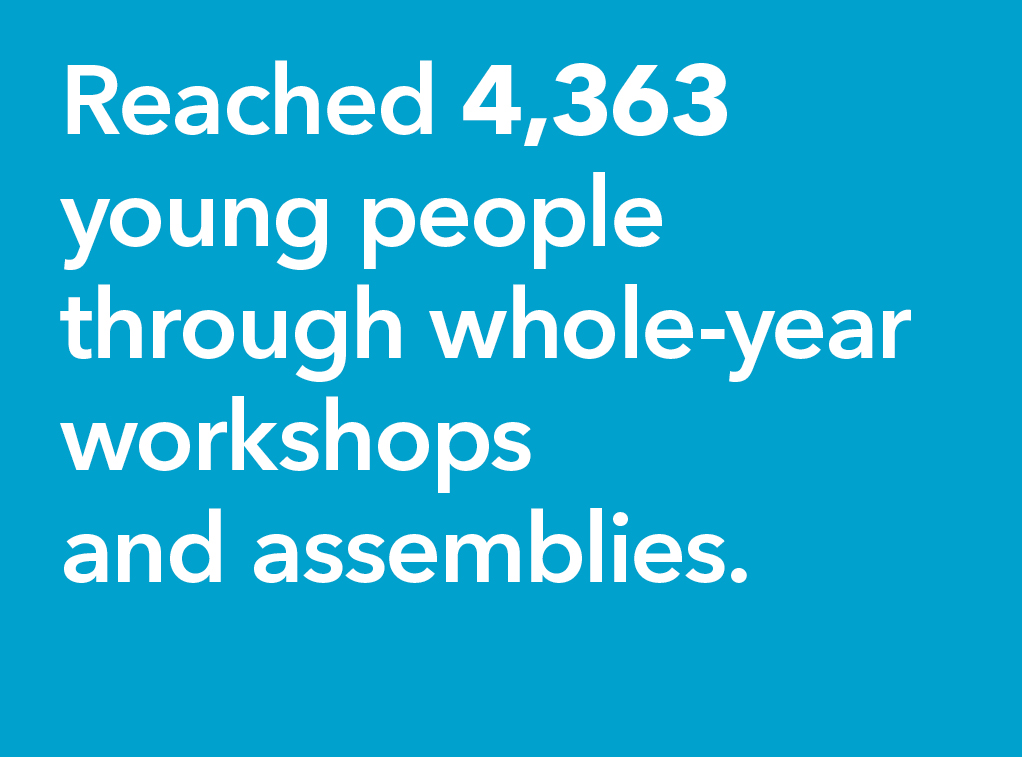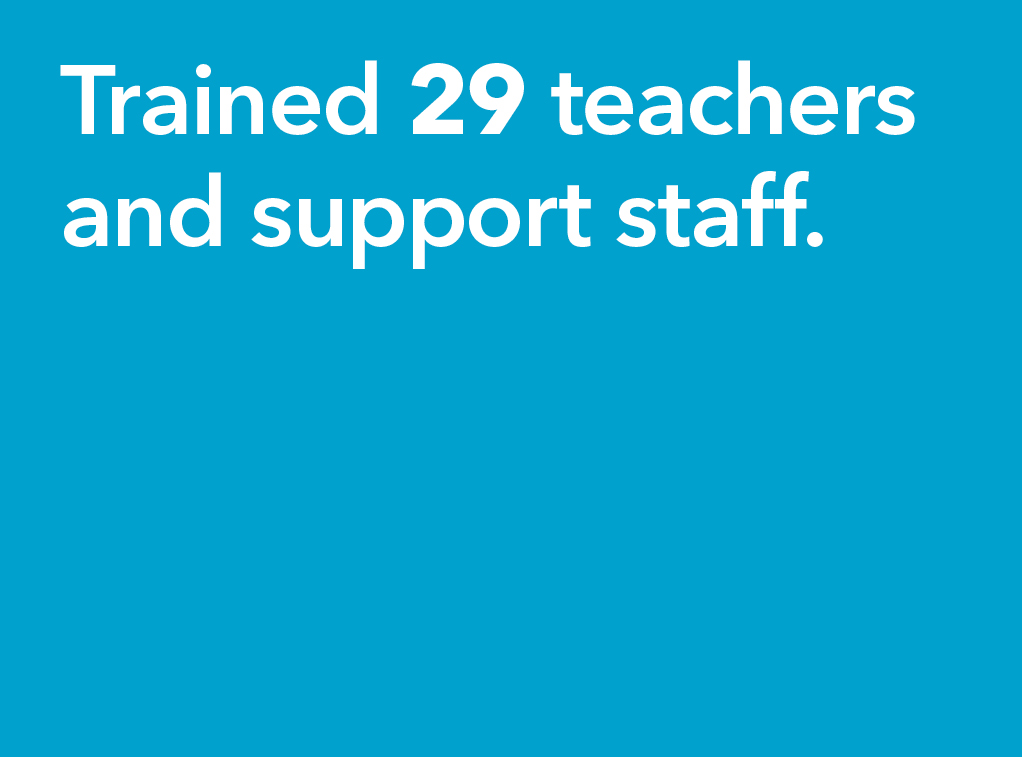 Of the young people who attended workshops and assemblies: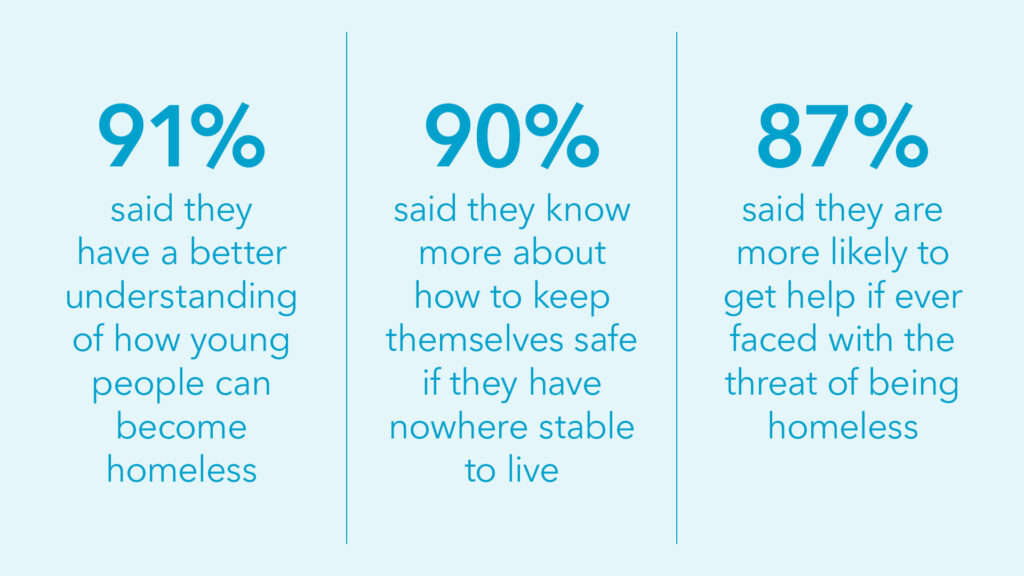 Read our blog to find out more about how our work with Depaul UK and the Astra Foundation also contributes to our overall £7m investment into tackling youth loneliness. This includes our Lonely Not Alone campaign which is co-designed with young people to tackle stigma.
Working together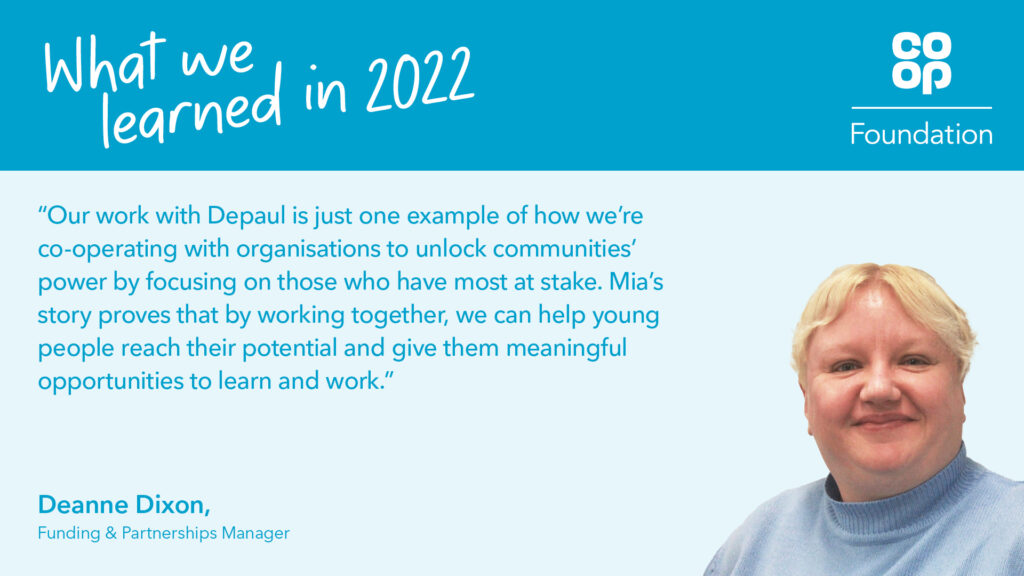 Keep reading
This story is part of our Learning & Impact Report 2022. Head to our interactive webpage to read more and sign up to our blog to keep up to date with our plans. You can also help us do even more in 2023 by donating your Co-op Member Reward online or in App, or pledging to support us on JustGiving.