Lonely Not Alone 2023 launches this June! 
It's hard to believe it's been five years since we launched Lonely Not Alone for the first time – and what an incredible five years it's been!
We believe co-operation is at the heart of strong communities, and that's why we asked young people to be in charge of the campaign from day one. It's thanks to our young co-designers that we've been able to create a safe space for young people to share what it's really like to be lonely, and connect with others.
This year, we've decided to launch Lonely Not Alone on 12 June to coincide with Loneliness Awareness Week. We hope that, by doing this, we can join the national conversation around loneliness and encourage everyone to seek out opportunities for connection to help young people feel less alone.
Keep reading to find out how you can support this year's campaign.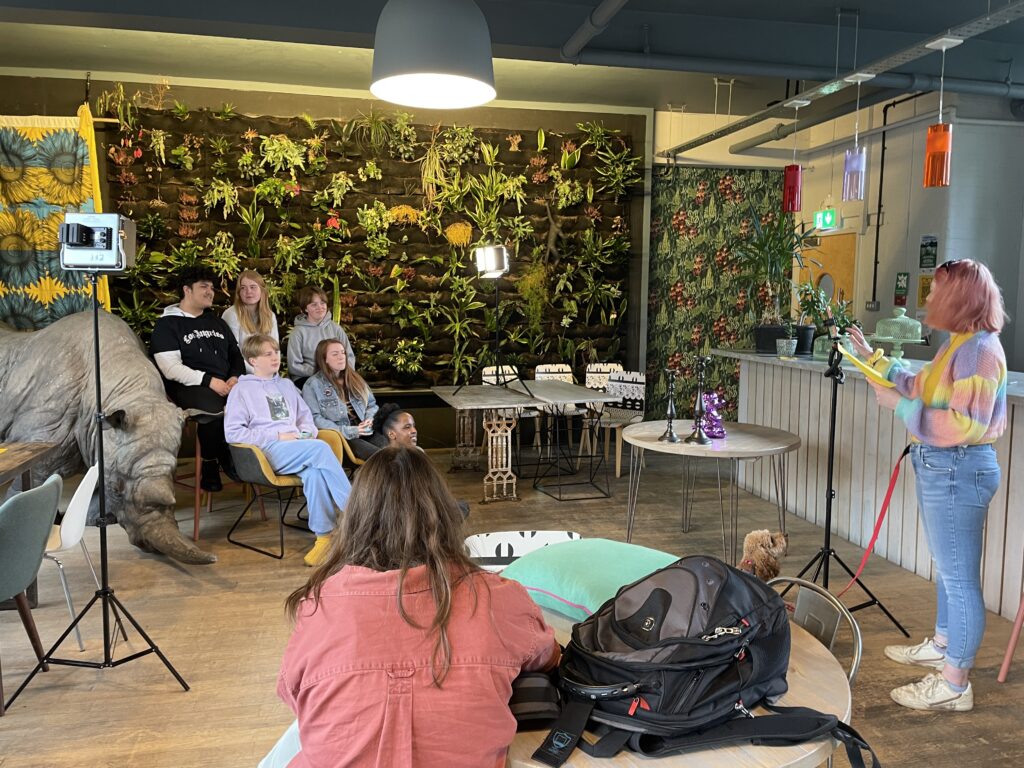 Where we've come from
We launched Lonely Not Alone in 2019 as our first ever behaviour change campaign to help us deliver on Co-op's vision of 'Co-operating for a Fairer World'.
We brought nine young people together in an artists' studio in central Manchester and left them to it. Within a few days, they'd come up with our name, our first activation to wear yellow socks and some pretty amazing characters too.
Year one was such a huge success that we decided to keep building our campaign. We even created a theory of change to help us achieve long lasting impact. This work prompted the beautiful, digital universe we now host at lonelynotalone.org and the 300 stories and 60 messages of support that sit there today. We're so proud that at its peak, 25% of young people in the UK had heard about Lonely Not Alone.
Watch the video below to understand more about last year's campaign and the Lonely Not Alone universe.
What's happening in 2023?
What makes Lonely Not Alone so special is that it's co-designed with young people. Help us celebrate their incredible impact this year by:
Sharing supplied videos and graphics on your social media channels. You'll find these at lonelynotalone.org before the campaign launch and we'll let you know on this blog when they're live.

Talking to young people about loneliness using a youth work pack made by our Lonely Not Alone team – we'd love it if you could let us know if you would be looking to use our pack.
Encouraging everyone in your network to share a message of support on the Lonely Not Alone universe to help lonely young people for years to come
Long-lasting impact
As you may have seen from this blog, 2023 will be the last year we promote Lonely Not Alone as we focus on new and exciting priorities set out by young people in the Co-op Foundation strategy. We'll have an update on this work soon.
In the meantime, we're really passionate about spreading the word about this year's campaign. We're so proud of the Lonely Not Alone and this is our chance to celebrate just how amazing young people are when they're truly sharing power. This is my first experience of working with young people and I can honestly say that seeing them come together to tackle an issue that affects them has been a very inspiring and humbling experience.
I hope you will help us spread the word about Lonely Not Alone this summer and help us make sure it has an impact for years to come.
Pop 12 June in your diary today and follow us on Twitter to keep up-to-date with news about this year's campaign.