Sharing learning this #iwill Week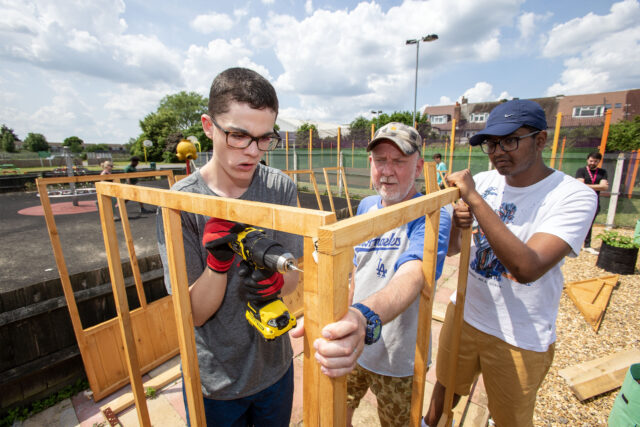 This #iwill week, we're celebrating 10 years of the #iwill Movement. It was founded to showcase the power of youth social action and encourage others to better involve young people in decision-making. To recognise this important milestone, we're celebrating our #iwill Fund partners who support young people to create change on issues that affect them and their community.
Here at the Co-op Foundation, we work in collaboration with our partners – we listen and learn from them. In 2020 we funded 42 partners to deliver Bereavement Support, Community Spaces and Schools Transitions projects.
In 2022, 30 out of the 42 partners took up the opportunity to continue their work with an additional year's funding and have been sharing their learning with us throughout their journey. This #iwill week we wanted to share their latest insights so that other funders and partners can learn alongside us.
How to support young people into youth social action
Through funding our partners, we've learned that:
Young people want to engage with social action opportunities to support other young people and their community. Partners found that young people have ambitious ideas and are enthusiastic when it comes to improving their community. Young people who received support in their school transition applied to become peer mentors because they wanted to give back by supporting other young people's transition to secondary school. Young people working in community spaces took ownership of the projects they worked on. Some went on to set up groups to protect their community spaces after their project had come to an end.
Young people recognise the benefits of getting involved in social action for their own development. Some projects offered a recognised qualification to acknowledge young people's commitment to their social action work. One of our Community Spaces projects offered young people the opportunity to achieve an AQA Green Leaders award. This was seen by young people as a benefit to their own wellbeing and development. It also gave them a sense of achievement and helped them gain valuable work experience which could be referenced in future job applications or used to improve their C.V. In one project, young people even built a portfolio of evidence of all the skills they had learned.
Whilst young people want to take part in social action projects, partners found that young people face multiple barriers. Our partners recruited young people who might not have regular opportunities to volunteer because of various barriers that prevent them from being able to take part. Partners have had to take a holistic approach to working with young people, providing extra support where needed. For example, they've covered people's transport costs to attend sessions and provided mental health support through one-to-one conversations or professional counselling sessions. Practically, partners had to provide heating vouchers and foodbank referrals so that young people could continue with their social action work.
Young people aren't always ready to participate in social action straight away. Understandably, the pandemic and the cost-of-living crisis have had a negative impact on young people's mental health and wellbeing. They needed to build their confidence, wellbeing strategies and skills before they could take part in social action. Young people at one project designed mixed media 'Happy Places' which were a combination of real and fantasy places. This form of meditation helped them to relax as well as decrease feelings of stress and anxiety.
Building relationships with young people is key to involving them in youth social action. Trust needs to be built for honest conversations to happen. Some partners found this to be a challenge as staff changed mid-project and young people had to re-build trusted relationships with new adults. Relationships with their peers were just as important for young people, and they sometimes felt more comfortable sharing some of their concerns with them.
How we support our partners
We've learned that to support our partners to deliver youth social action, we need to:
Be flexible: Timelines and budgets need to change if partners are to follow the lead of young people in their social action projects.
Deliver longer term funding: This allows partners to employ experienced staff who can build relationships and provide consistent support to young people. Longer term funding also supports partners to develop how they run their project, making space for them to learn and improve their project over time.
Connect partners with one another: Partners have told us that they would like more opportunities to meet colleagues from other projects. They value the opportunity to share learning and resources.
Next steps
We will use our partners' feedback to explore how we can support them to connect with one another beyond the end of the programme through a partner network. This will help us deliver on Co-op's vision of 'Co-operating for a fairer world' and on young people's vision of fairer future communities.
We will use the learning from the #iwill Fund and our partners to support the implementation of our new strategy. Young people are at the heart of our new strategy and we're working to ensure they take the lead in our work.
For further information and to keep up to date with our progress, subscribe to our blog.

The #iwill Fund is made possible thanks to £66 million joint investment from The National Lottery Community Fund and the Department for Culture, Media and Sport (DCMS) to support young people to access high quality social action. The #iwill Fund supports the aims of the #iwill movement – to make involvement in social action a part of life for young people, by recognising the benefit for both young people and their communities.