Where there's #iwill there's a way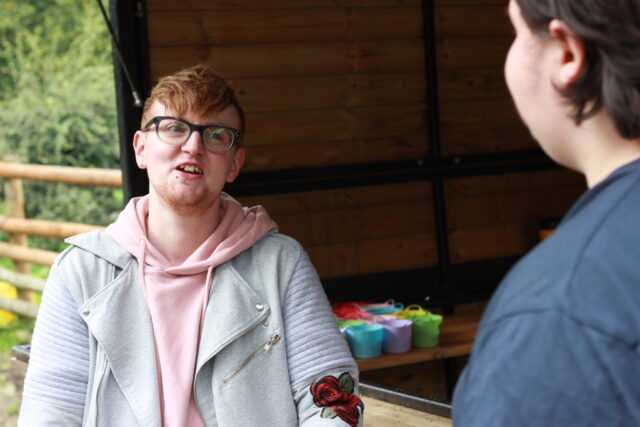 Working with other organisations and partnering in larger campaigns is a big part of how we live by our co-operative values and IVAR commitments at the Co-op Foundation.  
Our #iwill Fund partnership with The National Lottery Community Fund and the Department for Digital, Culture, Media and Sport (DCMS) is our oldest such collaboration. We're proud to have supported partners to engage young people in high quality social action since mid-2018.
As we mark #iwill Week 2021 – and as we launch our #iwill Fund interim learning report – we look back on this partnership and review what we've achieved and learned, particularly in the past year.
I hope these key findings are useful for our partners, other funders and the youth sector more widely. Subscribe to our blog to keep up to date with this fund and email our team if you have any questions about our work.
About #iwill
We're now in our second round of #iwill funding after working with 59 projects to tackle youth loneliness through social action between 2018 and 2021.
Our most recent round of #iwill funding aims to support 76 youth social action projects through its lifecycle. These will help young people to:
Work together to improve the design and use of community spaces
Run peer support projects to help young people's wellbeing as they move up to secondary school
Provide peer support and safe spaces for young people who are going through bereavement
Projects launched in 2018 and will run to the end of 2023
Learning 1: There are real benefits to social action
We are proud to be making good headway into our targets for #iwill.
So far, 21 organisations have engaged 2,851 young people in social action. Our target is for 6,200 young people to be engaged in social action by 2023, meaning we are already over a third of the way there.
But it is not just about engagement – it's about quality and impact. 1121 young people who needed it most took part in social action, and 1082 committed to continue engaging with youth social action opportunities. This is targeted and ongoing work so that young people benefit and want to continue to engage.
The results of this benefits both communities and those taking part – 1975 young people have built resilience as a direct result of #iwill funded projects. 1349 have developed communication, teamwork and planning skills. This mutual benefit is a direct result of those we are funding working co-operatively
Finally, we know that projects about people cannot be created without those people, which is why I am pleased to note that people 1035 who took part have lived experience of the issues they are seeking to address.
Learning 2: Co-operation counts
Co-operation is at the heart of everything we do at the Foundation, and this report has highlighted how this should be reflected in our partner's work with young people. Projects should involve young people in project design not only to impact on the outcomes of the projects, but to feel a stronger sense of project ownership.
We've received some great feedback on how to use different channels to reach target young people, including digital spaces and school referrals. Learning from the pandemic, a blended approach of online and face-to-face may also help widen participation to young people more geographically dispersed. Having young people involved in every stage of the process allows them to take ownership of projects and become invested in their outcomes.
Similarly, recruiting staff with backgrounds and experience most relevant to the target young people and the topics being covered is integral to delivering projects well. Being flexible is important. Doing things like adapting delivery to different learning styles for young people and sharing lesson plans in advance means that they learn more effectively.
Learning 3: Supporting partners to deliver
We have gathered a lot of information about what our partners are doing and their achievements. Their feedback has provided important learning for current and future projects.
Part of our responsibility as a flexible funder is being open, responsive to change and allowing our partners to flourish. For us, this also means taking on feedback about what our partners want.
In our report, much was said about leveraging existing relationships and networks and minimising burden on these organisations by considering timing and the best way to work. Safeguarding training is important, as is supporting staff around sensitive issues. These are all things we will be taking on board as we continue to develop as a funder
Next steps
As we move on to the next stage of #iwill, we are already learning from this project. This report is helping to inform our future working, and the support we will be offering our partners. We can't wait to see what more we learn from our partners and from the young people working with them.
The Co-op Foundation is committed to learning and acting on that learning.
That's why we commissioned IFF Research, an independent research and evaluation agency, to evaluate projects and develop key learnings from the #iwill Fund, to share with partners and inform future funding rounds. The evaluation will involve research to monitor progress, impact and lessons amongst our partners.
We also commissioned IFF Research to document the impact of our #iwill funding in 2022. Read our latest Year 1 evaluation report here.
Support from Co-op Members
Co-op Member contributions to Co-op's Community Partnerships Fund has enabled further partnership working the #iwill Fund. Together with the Youth Endowment Fund, Co-op is delivering the Peer Action Collective (PAC) – a £5.2 million programme that aims to give young people the chance to make their communities safer and fairer places to live.