'Lonely Not Alone' campaign launches today
Monday 23 September 2019
A campaign created by young people to beat the stigma of youth loneliness launches today (Monday 23 September).
'Lonely Not Alone' encourages everyone to wear yellow socks to show they care about youth loneliness. Supporters can then post a picture of themselves online using #LonelyNotAlone. 

People are invited to get involved whenever and wherever they like. Every time someone wears yellow socks, they'll show young people everywhere that youth loneliness matters.

The campaign was created by a group of nine young people who've felt lonely in the past, in partnership with specialist youth co-design agency, Effervescent. Young people chose yellow socks as their campaign idea because the colour reminded them of hope, while the semi-hidden nature of socks reflected what loneliness felt like for them.

In addition to asking everyone to wear yellow socks, young people also helped to create characters for an animation that reflect how they feel lonely. Characters include a unicorn, who feels different, and a 'crocoduck' – a duck that pretends to be a crocodile to fit in with others. The animation is narrated by 15-year-old Mia Povey, from Middlesbrough. Watch this and more at www.lonelynotalone.org.

'Lonely Not Alone' is launched as research finds only 26% of young people are confident talking about loneliness, and even fewer (23%) believe society treats it as a serious social issue. Researchers spoke to 2,044 young people aged 10 to 25 years old UK-wide and also found that less than a third (31%) would be comfortable asking for help if they felt lonely.

However, the Co-op Foundation research also found that lonely young people are proactively trying to overcome their feelings of loneliness, and help others:

74% of young people have taken at least one action that helped with their own feelings of loneliness
73% have tried to help other young people who might be lonely
An estimated 1.7 million young people across the UK would be comfortable helping their peers to beat loneliness, but are yet to do so
Jim Cooke, Head of the Co-op Foundation, said: "Loneliness is a feeling we can all relate to, but few of us realise that young people are affected more than any other age group. 'Lonely Not Alone' has been created by young people for young people to tackle the stigma of youth loneliness and help us all to show we care. Get involved today to help young people everywhere see that youth loneliness matters and that even if they do feel lonely, they are not alone."

Nicky Morgan, Secretary of State for Digital, Culture, Media and Sport, said: "Loneliness is a huge challenge and sadly a reality for too many young people. The Co-op Foundation's innovative campaign is a fantastic way to raise awareness and help them realise they are not alone in feeling lonely. Through our loneliness strategy we are working to tackle the stigma of loneliness and create more opportunities for people to meet and make friends. I hope this campaign will encourage more people to spot the signs of loneliness, speak up and build more meaningful connections with each other."

Taylor, 13, from Greater Manchester, helped to create the campaign. She wanted to get involved due to feeling different from other young people her age: "'Lonely Not Alone' has made me realise that if someone is lonely, you don't just walk past them – you ask if they are okay, or you see if they want to spend time with you. This project has really developed my confidence. I have realised through this process that I am loveable and wonderful, after all, and that has helped me to find deeper and better friendships at school. I now have some great friendships with people."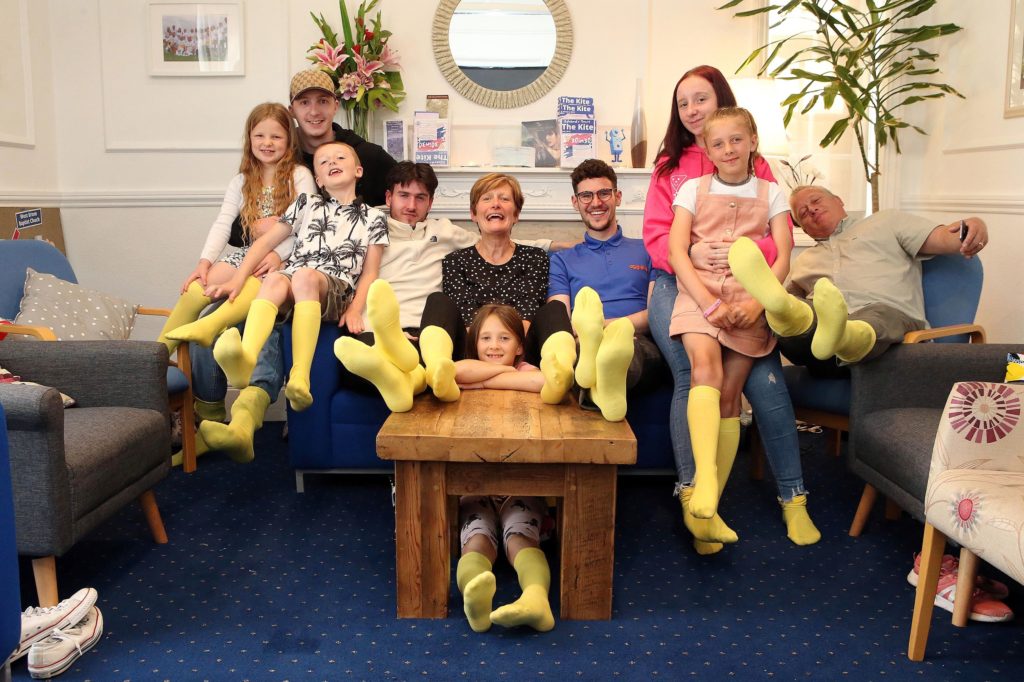 A host of organisations across England have already signed up to support 'Lonely Not Alone'.

Co-op Academy Swinton, in Greater Manchester, will host a loneliness discussion for students, while The Union, Manchester Metropolitan University, is backing the campaign to engage its students.

Southend YMCA is using the yellow sock theme to encourage local young people to sign up to its peer mentoring programme and Birmingham-based bereavement charity, Edwards Trust, will use yellow socks as a way to engage young people in loneliness discussions.

'Lonely Not Alone' is funded by the Co-op Foundation and government. It builds on the Let's Talk Loneliness campaign. 

Co-op Foundation is the leading charity tackling youth loneliness in the country. It has awarded £6.5 million to projects UK-wide while also supporting the development of resources and networks to help youth workers identify and tackle youth loneliness with greater confidence.