Improving spaces and boosting mental wellbeing through youth social action
"When I first started this project, I was extremely anxious and not calm. I felt people judged me. Now I am managing my anxiety better and feel more confident speaking to people. I wanted to change from who I was to [be] a better person and this project helped me do that," Joe – a young person involved in the Groundwork South #iwillFund project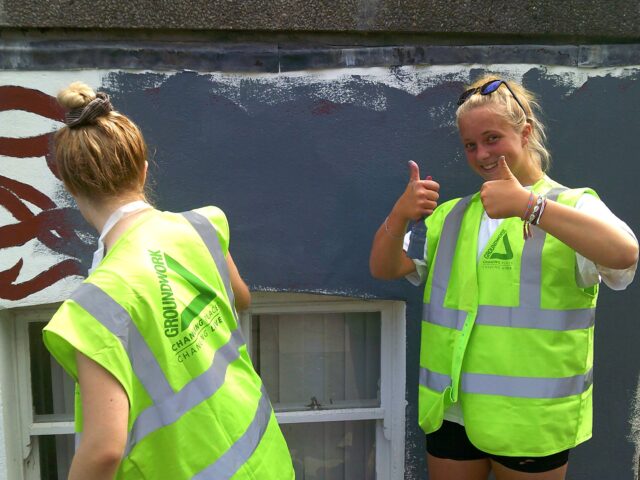 Young people not in education, employment or training in Cornwall are getting the support they need to boost their skills and wellbeing while reinvigorating local spaces thanks to a project run by our #iwillFund partner, Groundwork South.
Funded through a £34,980 grant from our #iwillFund, Groundwork South is supporting young people aged 16 to 20 years old to research local community spaces, run consultation programmes and, finally, make a difference locally. 
But the outcomes are far greater than improved local spaces. The young people involved are also learning new skills that could lead to future job opportunities, building relationships and improving mental wellbeing.
"For some people, our #iwill project has been a way of re-integrating back into society after Covid," says Christopher Barber, Project Lead.
Tackling inequality
Young people from lower economic backgrounds, such as those not in education, employment or training, are significantly less likely to take part in youth social action than their more economically stable peers*. Youth social action includes activities like volunteering, campaigning and fundraising.
Groundwork South is working specifically with this group, who also struggle to get their voices heard in opportunities like community consultations. The young people involved are researching local spaces, consulting with others on how to make them better and getting their hands dirty, too – by doing anything from litter picks to prepping pop-art walls.
They're also sharing what they've learned with other young people and presenting findings to the community. This helps to build skills and confidence.
And despite the ongoing impact of the pandemic, 92 young people have got involved and benefitted from the programme so far.
Impact
The Groundwork South #iwill Fund project has been running since October 2020. They're seeing some significant outcomes for young people.
Joe, 21, joined after struggling with substance misuse, anxiety and bullying. His relationship with his dad was also strained and he had been diagnosed with ADHD and autism.
Since April 2021, Joe has taken part in research and consultation and helped to shape a green space, which is now being prepared for a graffiti-street art project.
Joe said: "I sometimes get depressed and suffer anxiety attacks. If things happen that I can't control, it freaks me out. [This project gives me] a reason to get up in the morning… it gets me out doing stuff as I don't want to sit at home doing nothing.

"Hopefully [in five years time] I will be working or starting up my own business. I want to do something in the construction industry like bricklaying and plastering. I would love to begin employing people."
Elsewhere, 25 young people have reported increases in confidence while eight young people with additional needs are now leaving home and interacting with the wider community. This includes doing things like taking up employment or education and accessing community services.
#iwill Week
#iwill Week 2021 is shining a light on some of the amazing projects that help young people get involved in youth social action. Read more on the #iwill website.
Our support for Groundwork South is part of a wider £5m investment through our #iwill Fund. Our funding has been focused on tackling youth loneliness, supporting young people to improve spaces, and giving them tools to help each other through bereavement and the move to secondary school.
In January 2021, we awarded Groundwork South a further £69,988 to continue their work in Cornwall.
In addition, Co-op Member contributions to Co-op's Community Partnerships Fund has enabled further partnership working the #iwill Fund. Together with the Youth Endowment Fund, Co-op is delivering the Peer Action Collective (PAC) – a £5.2 million programme that aims to give young people the chance to make their communities safer and fairer places to live.   
Subscribe to our blog to find out more about our latest funding and read more stories from our partners.
* 2019 National Youth Social Action Survey
The #iwill Fund is made possible thanks to £54 million joint investment from The National Lottery Community Fund and the Department for Digital, Culture, Media and Sport (DCMS) to support young people to access high quality social action opportunities. We're acting as a match funder and awarding grants on behalf of the #iwill Fund. The #iwill Fund supports the aims of the #iwill movement – to make involvement in social action a part of life for young people, by recognising the benefit for both young people and their communities.