Unboxing creativity during lockdown
Liverpool-based Comics Youth helps to tackle inequality by supporting marginalised young people to express themselves creatively.
Their Safe Spaces programme was set up in 2019 to build on this by creating safe community spaces made and run by young people. We funded the project through a £31,544 grant from our #iwill Fund to help turn empty shops across the city into spaces to chat, make friends, and have a good time creatively.
"The idea for the pop-up spaces was brought together by young people. They wanted somewhere with a shop front which caused a bit of intrigue – something that would look quite dull on the outside but would be a colourful haven for marginalised young people on the inside," says Amy, project manager at Comics Youth.
But when Covid hit, the pop-up spaces were put on hold and they had to think about how to create a safe space in a Covid world.
Replacing physical with digital
Not only did the pop-up spaces have to be put on hold, but the safe space at Comics Youth HQ wasn't able to open either. Young people had lost their space and their support group.
"We saw hate-speech increase online during lockdown," says Amy, "and a lot of young people were living with parents who weren't accepting of their identity.

"Co-op Foundation reached out instantly, which allowed us to act quickly. They allowed us to use our funding to do what we needed to in the timescales we needed to do it. We moved our physical project to online within two weeks, which for us, was unprecedented!"
Comics Youth also used Discord – a communication platform usually used for gaming – which was monitored by staff to offer separate support to any young people who were struggling. This worked to recreate the physical safe space that existed at Comics Youth Headquarters.
Unboxing creativity
Alongside the online resources, Comics Youth developed Stay Safe Club boxes – care boxes packed full of advice, comics, crafting activities, and artwork – to send out to young people across the Liverpool City region. With the help of young people, Comics Youth send out more than 2,000 boxes during the 2020 lockdowns.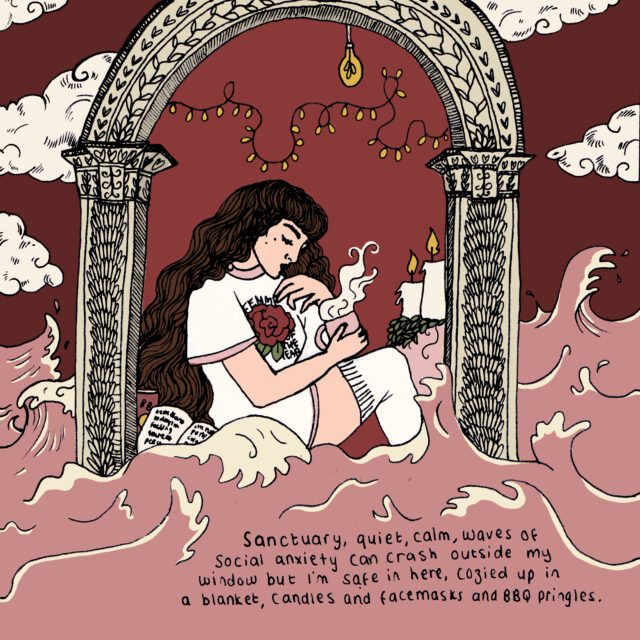 "We couldn't have envisioned that the StaySafeClub boxes would have such an impact on the young people. We were inundated by parents and young people alike telling us about how important they were to them, especially at that time," Amy reflects.

"The boxes remind the young people that they're not alone, helps them to look after their mental health, and in some cases, they've saved lives.

"Without the funding from the Co-op Foundation we wouldn't have been able to support a lot of the young people in the way that we have done during the pandemic. We've been able to upscale the support we provide – not just in the creative work but making sure that they feel safe and valued.

"The project allows our young people to feel supported through co-operative values. It inspires them to be kind, reach out and provide solidarity to each other."
In November 2020, we awarded Comics Youth with an additional £69,424 #iwill fund grant so they can continue having an impact through their Stay Safe Club boxes. This was part of a wider series of grants totalling £1.8m. Our funding will also support the team to effectively take the Safe Spaces programme into the "new normal", supporting young people to develop outdoor spaces and art trails across the city.
What Amy learned in 2020
"Discord was a communication platform that worked really well for us – it was somewhere the young people felt safe and was an easy way for us to offer additional support if we needed to.

"In 2020, I've learnt how to adapt and realised how resilient we all really are! By supporting one another we can get through hardships. I've learnt so much from our young people, and they've also made me feel listened to and heard!"
Head to our Impact Report to read more about what we achieved and learned with partners in 2020.

The #iwill Fund is a £50 million joint investment from The National Lottery Community Fund, the largest funder of community activity in the UK, using National Lottery funding, and the Department for Digital, Culture, Media and Sport (DCMS) to support young people to access high quality social action opportunities. We act as a match funder.