Beechbrae: Providing financial security when it mattered most
"We exist to provide what our community needs. That was suddenly at risk when Covid hit and we lost our income overnight. Thanks to the Co-op Foundation, we've been able to build our financial reserves, support local people's mental health, and plan for the long-term. It proves that co-operation is everything."
Ally Graham, Beechbrae founder
Beechbrae social enterprise, based in Blackridge, central Scotland, helps tackle inequality by providing mental health support and environmental education to local people.
Inspired by the woodland that surrounds it, the team helps school children and adults from nearby towns and villages engage with nature, learn outdoor pursuits and develop a sense of community.
In 2019, we agreed to support this further with a £10,000 grant and £50,000 interest-free loan, with no repayments for the first 12 months. The money would support the team to build an indoor woodland centre so they could expand their activities and become more financially sustainable.
Then, the Covid pandemic changed everything.
Income disappeared almost immediately as the country was plunged into lockdown and the fight was on to keep providing services their community needed more than ever.
We responded by offering an extension to our loan repayment holiday and the flexibility to help the team at Beechbrae do what mattered most for local people.
Supporting mental health
Ally Graham is founder of Beechbrae. She set up the social enterprise after being inspired by the Beechbrae woodland as a way of building community cohesion, re-learning outdoor skills and improving mental health.
She said: "Beechbrae started as a small group of people who saw a woodland and wanted to engage others in nature. We're now a real part of our local community and we're here for all the important things they need.

"We educate local school children on the environment and help people with a diagnosed mental health condition get into nature. Being outside is beneficial to us all and we see a real, positive change in people we support."
Financial sustainability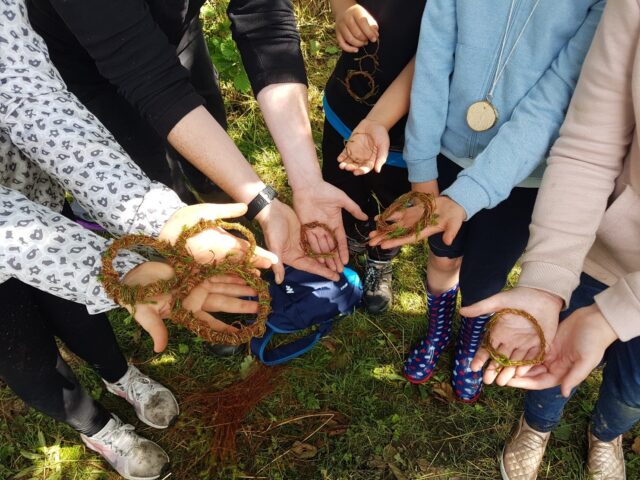 In 2019, the team at Beechbrae applied for funding from our Community Spaces interest-free loans programme to part-fund a new woodland centre.
The centre would bring in rental income from local groups, allow the team to offer more community activities, like cookery classes, and provide a space for weddings and other events to boost financial sustainability. It would also be environmentally sustainable with a timber structure, timber cladding and sheep wool insulation.
Ally said: "We worked in partnership with a number of funders to bring this to life and co-operation was everything. When you share with each other it creates better quality work. Co-operation has to be a value with any organisation we work with and that was why we approached the Co-op Foundation"
Adapting to Covid
Like almost every community organisation, Covid had a significant impact on Beechbrae's work. From late March 2020, lockdown forced schools to close, people to stay indoors and income to fall dramatically.
The team were due to begin repaying our loan, which would have diverted funds away from essential community work and put jobs at risk. In line with our commitment to flexibility, we agreed to delay repayments so Ally and her team could focus on helping their community when they really needed it.
She said: "If hadn't received the extra repayment holiday, we would have had to take money from other activities and the community would have suffered. At worst, we may not have existed at all.

"Instead, we were able to continue to provide mental health services, adapt our existing community activities where lockdown allowed and go out into the community to help people on their doorsteps, too."
Beechbrae's woodland centre is due to open in April 2021. Follow progress online.
Head to our Impact Report to read more about what we achieved and learned with partners in 2020. 
What Ally learned in 2020
We've all realised the value of being outside. There's a real benefit in taking time for a walk and feeling the sun on our faces. We can only help others if we look after ourselves first.
In numbers
In 2020, we agreed repayment breaks for 16 community spaces partners in England, Wales and Scotland supported through our interest-free loans programme.
We also committed to invest £389,000 to help nine community spaces become more financially sustainable.