Speaking out about inequality in tech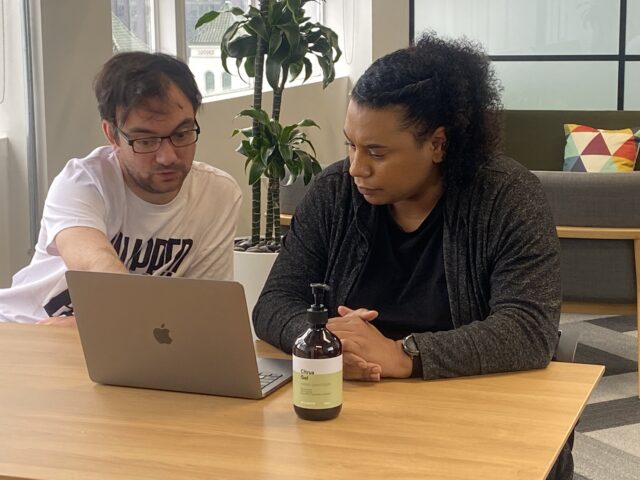 We've been helping people speak out about inequality and co-operate for change, thanks to one of our longest-running and most exciting partnerships.
The Federation programme, based in Manchester, is funded through a $675,000 grant from global philanthropic organisation, Luminate.  
Work in 2021 has seen us partner with the brilliant system change and social impact agency, Noisy Cricket, and digital and open tech experts, Paper Frogs, to empower people across Greater Manchester to address inequity, combat the erosion of digital rights and trust, and put society first within an increasingly digital world.
Co-operation is at the heart our programme.
Partners do everything from encouraging multi-national organisations to put wellbeing and rights at the heart of product design, to helping start-up social enterprises use opportunities in the tech industry to tackle inequality in their community.
A long-standing partnership
We've been working with Luminate to improve the world of tech since 2018.
Early work saw us support early-stage social enterprises to collaborate on ways to tackle inequality and facilitate wider community discussions on the role of tech in an equitable society.
Research shows this is really important, as Linda Humphries, from Paper Frogs, highlights in her blog post:
"Digital technologies are already controlling access to employment opportunities, and key services like education, healthcare and housing. Unfortunately, nine million people in the UK may be unable to use online devices without assistance. We [also] know that under-represented communities are disadvantaged by digital exclusion [and there's] a gap in data relating to people of colour and this is part of the problem. If the data doesn't exist, how can decisions on service provision be well-informed?"
Read more from Linda and check out what we achieved in our first Luminate partnership in our learning report.  
You can also read about the research Annette Joseph and the teams at Diverse & Equal and Honey Badger completed on diversity in tech in this guest blog from our 2020 Impact Report. 
Where are we now?
2021 was the start of our new two-year partnership with Luminate. We're focusing on:
Capacity building – we're supporting social enterprises, activist organisations and communities to grow the impact of their work.
Community building – we're creating communities to drive meaningful change in the digital technology space.
Collective action – we're collaborating with Greater Manchester leaders and the digital tech community to understand how technology can be used in a more ethical way to tackle inequality, put society first and tackle the erosions of rights and trust. This includes continuing to increase the impact of the Greater Manchester Responsible Tech Collective formed in phase one.
In November, we used our capacity building budget to award grants to eight organisations based in Greater Manchester.
Lauren Coulman, from Noisy Cricket, and Linda, from Paper Frogs, say they are looking forward to impact of our early work in 2022.
Lauren said: "The opportunity to bring people from across communities and cross-sector to explore new possibilities is rare, and as digital frames and influences so much our lives, the Responsible Tech Collective's work to bring home the humanity to tech is a much needed. This system's changing. Our action-focused group of responsible tech practitioners and pioneers are poised to explore how we progress everything from centring community needs in digital decision making to progressing ethnic equality in tech. I'm so excited to see the wider innovation and impact that emerges as a result."
Linda said: "I'm excited about how building capacity and communities with our social and digital innovation partners will sustain and grow the brilliant work they do. It will open up opportunities for under-represented people in the digital industry, and shape tools and approaches that help avoid problems caused by a lack of focus on people's rights or societal needs in the digital and tech space. Exploring how organisations can work together through the Responsible Tech Collective promises to deliver an impact for the future that is much greater than the sum of its parts."
Keep reading
This story was written as part of our 2021 digital Impact Report. Read more stories from this report, sign up to our blog to find out first about future funding or donate here to help us continue to build fairer and more co-operative communities.