Doing it by the book at The Old Library
Monday 29 July 2019
A south-London youth club based in a former library used a grant from the Building Connections Fund Youth strand to make their open-access youth space a quieter and more welcoming place to be.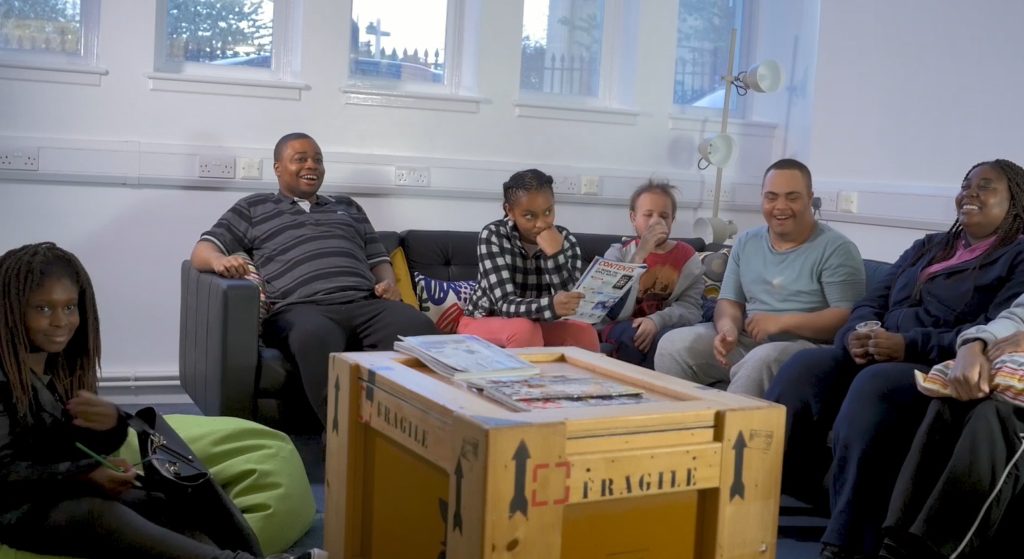 Words by Andrew Preston, Chief Executive at the Lambeth Elfrida Rathbone Society.
Youth projects like the Lambeth Elfrida Rathbone Society are bustling, vibrant spaces full of activity and conversation.
Young people are encouraged to be themselves to help increase their confidence and skills, and to build trusting relationships that mean they can contribute more effectively to their community.
But for some young people, including those with learning disabilities, this atmosphere can have the opposite effect, forcing them into their shells and causing them to disengage with support. That's why we applied for a £9,810 grant from the Building Connections Fund Youth strand to co-design a quieter space in our youth club.
We wanted a dedicated area for young people who weren't engaging with youth workers to feel safe and comfortable, and more able to talk about things like loneliness.
Co-designing a home-from-home
The first step in creating our quieter youth space was to ask young people what they wanted. We did this through surveys to our 'Young People Committee' and by speaking to young people with learning disabilities to find out what a safe, quiet space looked like for them.
We also got creative. We used mood and vision boards to bring out new ideas and encouraged members of our club to make their own artwork to really put their stamp on the space.
Finally, we allocated pots of money to different teams so young people could build their budgeting, teamwork and time management skills.
The results
We're delighted with what young people have created.
We now have a welcoming, vibrant, multi-purpose space that is accessible to all and owned by those who created it. Our quieter area has helped young people with learning disabilities to feel more at home and encouraged them to engage with us away from the all-action environment of our day-to-day club setting. A 'mindfulness corner' has also provided an added boost, promoting positive health and wellbeing for everyone.
As a result of our work, we're seeing more young people coming to our clubs and more engagement from those who would otherwise have shied away from getting involved in activities.
---
About the Building Connections Fund
The Building Connections Fund Youth strand is a partnership between the Co-op Foundation and government. We've awarded 166 grants to enhance existing work to tackle youth loneliness, or support projects to work directly with young people to co-design improvements to spaces and services.
Read about current support available from the Co-op Foundation, or subscribe to our blog to find out first when new funds are announced.