'We're like a family really' – finding a sense of belonging
Monday 19 February 2018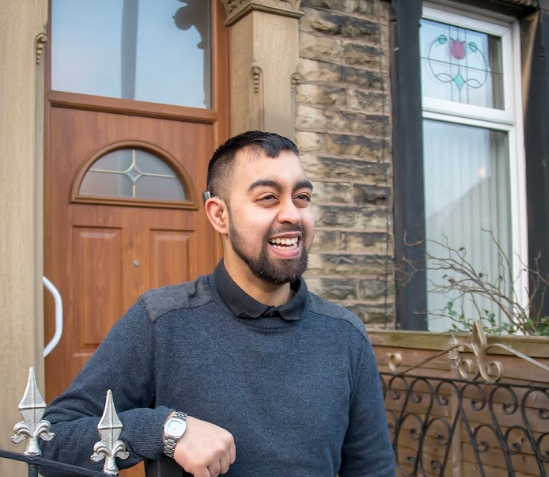 'We're like a family really' – finding a sense of belonging
Hamza is from Rochdale. He's 18. He's studying catering at college, and dreams of one day running his own business. He also has a severe hearing impairment.
We got to know Hamza when he joined Heard Not Hidden, a group for young deaf people set up by the Royal Exchange Theatre, with funding from the Co-op Foundation.
Through its work with the community in Rochdale, the theatre had identified that lots of young deaf people, and particularly those from South Asian backgrounds, were at risk of isolation. Using creative activities, they aimed to give young deaf people a platform to express themselves, learn skills, grow in confidence and start to change attitudes about disability.
When Hamza started attending Heard Not Hidden, he was quite shy. His self-confidence was low – he'd been applying for jobs and feeling frustrated that his hearing impairment was holding him back. But as the weeks went by, taking part in activities he enjoyed helped him start to bond with the other young people, volunteers and leaders.
When we visited the project, Hamza told us about the sense of belonging he'd found with the group. "We're like a family really" is how he put it.
Belong – young people beating loneliness
Heard Not Hidden was one of the first projects the Co-op Foundation funded as we set out to tackle youth loneliness – an issue that affects one in three young people.
We've now built up a network of 24 projects, working in every nation and region of the UK. We call this network Belong, and it has three aims:
to connect and empower 5,000 young people, giving them the tools to tackle loneliness

to strengthen local youth services that provide vital support and opportunities

to start a national conversation that breaks down stigma about youth loneliness.
As a Co-op Member, you can support this work by choosing us as your cause – so that every time you buy Co-op products, 1% of what you spend will go to our projects.
You can also donate directly or raise funds online.
A long-term impact
Taking part in Heard Not Hidden is having a long-term impact on Hamza.
As his confidence grew, he started to take on more responsibilities within the project, co-ordinating activities and welcoming new young people into the group. One of his proudest moments came when he led a series of workshops raising deaf awareness in the community.
When we visited again recently, his hopes and aspirations for the future had clearly been boosted. He'd managed to get some work experience, and was throwing himself into his catering studies. He told us about the different aspects of the industry he'd been learning about, and how his grandfather had inspired him to think about going into business.
He's become a role model to other young deaf people, and still regularly helps out at Heard Not Hidden. The project is now running independently, led by local volunteers – so it will have a long-term impact for other young deaf people and the community in Rochdale.
Meanwhile, our partnership with the Royal Exchange Theatre has expanded into other areas of Greater Manchester, building on what was learned from Heard Not Hidden. Working in schools, the theatre is now focusing on how creativity can build connections between disabled young people and their non-disabled peers.
Inga Hirst, the theatre's Director of Creative Learning & Engagement, explains:
"Heard Not Hidden fulfilled a need identified by the community in Rochdale. Our team provided a platform for young people to express themselves and their experiences of being D/deaf or hearing impaired within the South Asian community. As a result, they grew in confidence and felt empowered to help dispel the attitude that disability should be hidden.
The project has created a network for the young people to make new social connections, share positive outcomes with their families and have access to professional services. It has been fantastically rewarding all round.
We've been delighted with our long-term partnership with the Co-op Foundation. It's given us the freedom to respond to the needs of the young people we work with. Building on our learning, we're working with young disabled people who experience loneliness, helping their integration with their peers and sense of connection and community.  
As a member of the Belong network, we're also contributing to a nationally significant evidence base that will improve the lives of more young people."
Find out more – and get involved
Youth loneliness is still not well understood. We're just over one year into our work on this issue, and we still have a long way to go. But through stories like Hamza's, and insights from the Royal Exchange and our other partners, we're starting to see the difference our work is making.
This week we published our first annual impact report , to share this progress with our supporters. Here are some highlights:
294 young people benefited from our first pilot projects (including Heard Not Hidden)

Another 2,000 will benefit from new projects we funded in 2017

Thousands of Co-op Members, colleagues, customers and suppliers raised funds to support our work tackling youth loneliness.
The report also shows how co-operation is the key to our impact in communities. If you'd like to get involved, here's what you can do: