The next generation of environment changemakers are having their say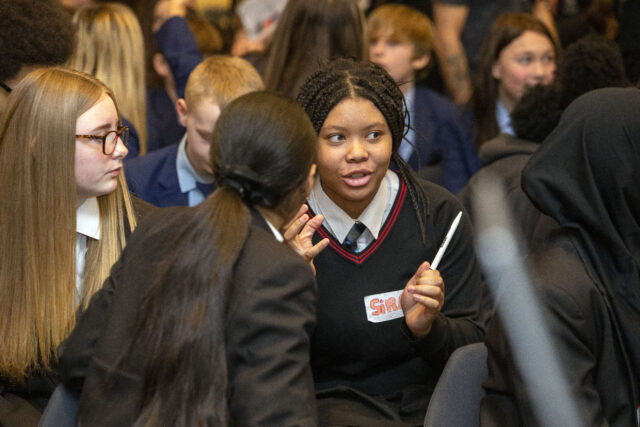 Amplifying the voices of young people is integral to the work we do at the Co-op Foundation.
This is why we commissioned a report, alongside Co-op, which asked young people their views on the UK's journey to decarbonisation and what we'd term a 'just transition' to Net Zero.
One thing was very clear – young people want a seat at the table to develop a fairer and more sustainable world for future generations. A staggering 91% of the young people surveyed think young people should be involved in decisions about how to reduce the UK's emissions.
Our research partners Basis Social and Livity surveyed more than 1,000 16 – 24-year-olds, providing a window into the views of young people across the UK, and what the journey to Net Zero means to them. Crucially, their responses also discussed what they thought the Government should be focusing on as we approach a tipping point to act on climate change.
Watch the video below to see young people sharing their views directly.
Building communities of the future together
At the Co-op Foundation, we believe young people deserve the opportunity to make an impact. This is why they have input into our new strategy, they are making funding decisions alongside us and we are working with them to build communities of the future together.  
75% of young people are personally interested in getting involved with the journey to Net Zero. But at the same time, 79% think that the Government doesn't listen to people like them.
We want young people to be able to take the lead on developing a more equitable and sustainable society. The world they inherit will be heavily impacted by the actions we take on climate change today. They need a say on their future.
Education
Young people care about the future we are building. More than 75% of young people are concerned about the UK meeting its Net Zero targets but over half do not know how to get involved.
They want to make a difference but need to be empowered to do so, by knowing the facts. 81% of respondents want more education to understand how the UK can reach Net Zero. As climate change will have an impact on all of our futures, young people need more education resources to make better informed decisions.
A question of fairness
73% of young people we spoke to also shared concerns that impacts from the transition to Net Zero will affect some groups of people more than others. A quarter felt those on lower incomes will feel the brunt of changing to sustainable behaviours more than those on higher incomes.
At a point where we're living through a cost-of-living crisis, fairness is at the heart of young people's views on the journey to Net Zero. They know that being fair and equitable in how people are impacted by these changes is important to achieve a truly 'just' transition.
It is important to act now, whilst taking into consideration how to ease any burden on those least able to bear it.
An opportunity to make a difference
The young people interviewed know we need to act to make a difference – 72% see the transition to Net Zero as an opportunity for their generation. They are willing to roll their sleeves up and make difficult decisions to change their world for the better.
We need to help them build the future they want to inherit. We should share power with young people, increasing their agency and ability to develop greener and more sustainable communities of the future together. We are working to put young people at the centre of what we do here at the Co-op Foundation, so they can build future communities that they want to see. I believe this should be replicated to give them a real say on a just transition to Net Zero.