Helping communities do what mattered most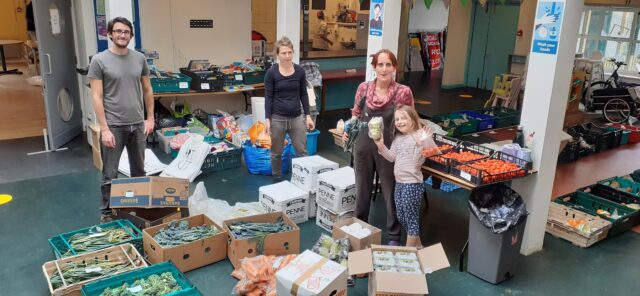 Our work and that of our partners changed completely when the UK went into its first Covid lockdown on 23 March 2020.
Community centres closed. Youth clubs locked their doors. Colleagues met through video calls or, when restrictions allowed, outdoors or socially distanced.
Throughout this, we committed to being flexible with our funding so our partners could do what mattered most for communities.
Here we look at what difference this made to two of our partners and the communities in which they work.
Being flexible with funding
We awarded Gascoyne & Morningside Youth Clubs, based in East London, a £10,000 Space to Connect grant to help them consult local people about how three under-used community centres could be turned into vibrant hubs.
Our grant helped the team to build stronger relationships with their communities, which meant that when they began planning for the impact of Covid at the start of March, they were off to a head start.
They were also able to use our grant to fund work that would further tackle inequality by supporting those most negatively affected by lockdown.
Director, Nicolette Nixon, said: "Our Space to Connect grant was already incredibly flexible. It allowed us to consult with our community and be reactive to their needs.

"When Covid hit, we already had a good standing within the community and we were able to divert some of our funding towards our food bank. Within a week of lockdown, we had our food bank and virtual youth clubs up and running so we could support as many local residents as possible. This work has since helped us to unlock more funding and run safe, online youth sessions that local young people have really enjoyed."
Being flexible with reporting
Eastside Community Trust is a community centre and adventure playground in Bristol. We awarded them a £9,989 Space to Connect grant to map the needs of local, diverse communities in Bristol but, when Covid hit, all hands were on deck to develop new community services and support people in need. This meant delaying deadlines for our reporting so they could do what mattered most.
Stacy Yelland, Chief Executive, said: "Our community centre shut in March, so we rediverted our output to doorstep home visits and matched volunteers with local people who were shielding for food shopping. We also provided phone call support to 150 residents.

"By having more flexibility over when to deliver our reporting to the Co-op Foundation, we were able to do focus our energy on our service users and community. Community spaces are vital to adapt and respond when something unexpected happens."
Our learning
Although we're proud that our flexibility meant partners could do more in 2020, we know we can improve, too.
One partner asked us to make our monitoring reports simpler for smaller grants. This is really helpful advice and we're already making changes so partners can reduce the amount of time they spend completing our reports.
Funding
Our Space to Connect grants were designed to help 57 communities come together, co-operate and understand how spaces could combat local issues. By the time many of our partners were finishing their work in 2020, everything had changed, and so had their priorities.
But their efforts didn't stop and we were proud that in late 2020 we invited all of our 'Explore' partners to apply for up to £10,000 of continuation funding to build on their learning and output during Covid. Read more on our news pages.
Head to our Impact Report to read more about what we achieved and learned with partners in 2020.
Space to Connect is a £1.6m partnership with the Department for Digital, Culture, Media and Sport to identify and improve spaces where people can connect and co-operate.