What we've learned so far from supporting youth social action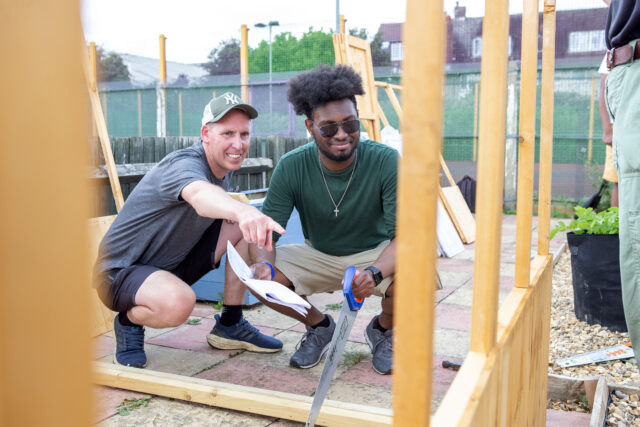 Since 2017 we have committed over £5 million as a match funder to the #iwill Fund.
The #iwill Fund is our £5 million partnership with The National Lottery Community Fund and the Department for Culture, Media & Sport (DCMS). This fund supports young people into youth social action opportunities, which has the triple benefit of helping the young people, their peers and their local community. This aligns with our new strategy, which prioritises youth leadership.
In 2020 we commissioned IFF research to evaluate the impact and reach of our funding. This timescale fell during and post-pandemic and into the cost-of-living crisis. This was an opportunity to listen and learn from the organisations we have been funding at a particularly complex and challenging time.
We are now sharing our learning from our #will Fund Year 2 evaluation report.
Young people making a difference
Since 2019 we've supported 48 organisations to improve youth bereavement support, access to spaces and the transition from primary school to secondary school. 
Our new report shows that the #iwill Fund has provided the opportunity for nearly 10,000 young people to directly participate in youth social action, which includes activities like volunteering and campaigning. This enables young people to make a positive difference in their communities as well as develop their own skills and knowledge. They're working together to help their local communities deliver on Co-op's vision of 'Co-operating for a fairer world' – just like us.
Our findings have contributed new learning and confirmed learning already present within the #iwill Fund Learning Hub
Sharing learning
We've learnt a lot from this past year. Helpful learning for partners included:
Space to grow: A number of the projects have created spaces and a range of engagement opportunities which empower young people to make decisions and play an active role in delivering projects.
Time and scheduling: Finding the right balance of how regularly young people can be involved is crucial and this might require adjustments throughout the project duration. For example, bereavement projects tend to be smaller in scale and participants need more intensive personal support. They often need more time to achieve outcomes and to engage their peers.
Consistency: Young people respond better to familiar staff, so contingency has to be put in place for partner staff turnover. There has also been a lot of resourcefulness, flexibility and creativity in refining projects to meet the needs of young people. This consistent delivery allows young people to feel empowered to participate in youth social action.
External factors: These have an impact – the pandemic and cost-of-living crisis had far-reaching effects on staff and young people involved in #iwill Fund projects, including reducing capacity and scale of delivery and changing the focus of some activities.
You can read more about what we've learned and the methods we used in our full evaluation report.
Changes for us
Our report will be able to guide us on how we move forward. There were several key points that came out of it that we will be incorporating into how we work and the activities we support:
Flexibility: It's important to be flexible, in line with our IVAR commitments and our seven principles for co-operative funding from our new strategy. Our evaluators suggest that it might not, for example, be reasonable to expect projects to demonstrate changing community views – it may be better to focus on promoting a positive image of young people in their local community.
Listening and learning: This means supporting activities that go where young people are, and having diverse staff with local knowledge to get young people involved and remove barriers to participation.
Individual needs: We need to look at how smaller changes are monitored, which might be huge when taking into a young person's personal circumstances. Some young people also need more personalised support to be ready to participate in youth social action.
Find out more
Read our full report to find out more about what we've learned and the methods we used in the evaluation.
You can also keep up to date with what is going on at the Foundation as we share our learning by signing up to our blog.