Guest blog: An oar-some way to make friends
Words by Ulick Tarabanov, Founder & CEO at London Sports Trust
"I look forward to Debatebox each week. I have made new friends at my new school and learnt how to box and talk with my friends about things I'm worried about going to secondary school. Also, our coach Kevin makes the lesson really fun" – a young learner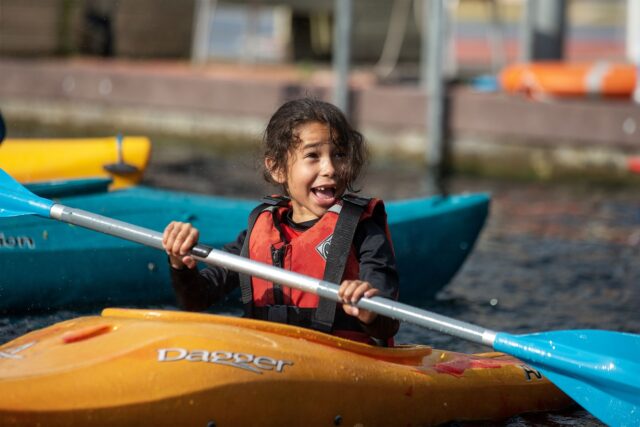 Hi, I'm Ulick and I'm CEO and Founder of the London Sports Trust. We're based in Ladbroke Grove, in west London, and we're supported by the Co-op Foundation's #iwill Fund.
Our charity uses mentoring so young people interested in sport can fulfil their academic and athletic potential.
I founded it in 1999 and it's a fantastic job. We support young people to take charge of their own lives and they make really positive changes when they have this power. It's so positive, in fact, that 80% of our staff and volunteers are young people who previously went through our programmes. They now want to give back, too.
Founding London Sports Trust
It can be difficult for young people – particularly those keen on achieving in sport – to also succeed in education.
That's why in the late 1990s, I was approached by our now long-term funder, John Lyon's Charity, to set up a programme to mentor young people with sporting talents from marginalised communities.
We started small by mentoring 15 young people. We watched them develop and grow so they could better perform in school and in sport, and keep away from things like gangs. Now the London Sports Trust supports around 2,500 children and young people every week.
This led to me formally setting up the London Sports Trust as a charity and learning everything that goes along with that, like writing constitutions, fundraising and building a trustee board. I'm really proud of our initial impact. One of our early mentees is Sonia Mkoloma who went on to captain Great Britain's netball team and win a Commonwealth Gold medal. She's now one of our trustees. 
#iwill Fund school transitions project
We'd been working for some time on a project called Debate-Box where young people had the chance to try out boxing skills, improve their physical fitness and learn debating.  
We thought it could work well as a transitions project, helping young people as they move up and change schools.
I loved the idea of year-seven students mentoring year sixes from local schools while also getting them involved in physical exercise and debating. It would give them all the chance to have real life discussions about the issues they may encounter in secondary school, like anxiety.
It would also help young people build friendships beyond their age group or those with similar interests. It's not often young people who like debating would make friends with the 'sporty' kids. Our project would help overcome that, and the young people taking part as mentees could eventually become mentors, too.
Making an impact
We've been running our schools transition project for three years now. 419 young people have been involved (up to February 2023), helping each other and changing our project for the better. We started with boxing but now we're called Debate-Move and we're doing all sorts of things, even kayaking.
The difference we're seeing in the young people is huge, particularly in their confidence. Anxiety can be an issue when moving schools and lots of young people in year six may experience this feeling but not understand what it is. Our debating project gives them a chance to talk about what they're going through and work through their fears together.
The young people in our projects also tend to come back to help others after they've moved up schools. They build a real sense of pride and leadership and it's this ripple effect of our impact that I love the most!
A word from the Co-op Foundation 
We're the Co-op's charity and we're co-operating for a fairer world. We're able to achieve this thanks to amazing partners like London Sports Trust, which has received £101,000 from our £5m #iwill Fund over the past three years.
Our #iwill Fund is our longest match funding partnership to date. This strand of funding is helping to build communities of the future together with young people by giving them the power to support each other on the move up to secondary school. It's all part of our new vision and it's supported by amazing Co-op Members when they shop in store! 
Learn more about our recent learning from our #iwill Fund in this evaluation. You can also find out what Co-op is doing to improve youth opportunities through its Peer Action Collective with the #iwill Fund and the Youth Endowment Fund. 
Thank you to all the young people working hard to make positive changes to our communities, through #iwill.
You can help them do even more by donating to the Foundation online or giving your Co-op Member Reward. You can also sign up to our blog to keep up to date with stories from our partners and new funding available.

The #iwill Fund is made possible thanks to £66 million joint investment from The National Lottery Community Fund and the Department for Culture, Media and Sport (DCMS) to support young people to access high quality social action. The #iwill Fund supports the aims of the #iwill movement – to make involvement in social action a part of life for young people, by recognising the benefit for both young people and their communities.