Guest blog: Sowing the seeds for better jobs
Words by Lindsay Maclean, Mencap Community Projects lead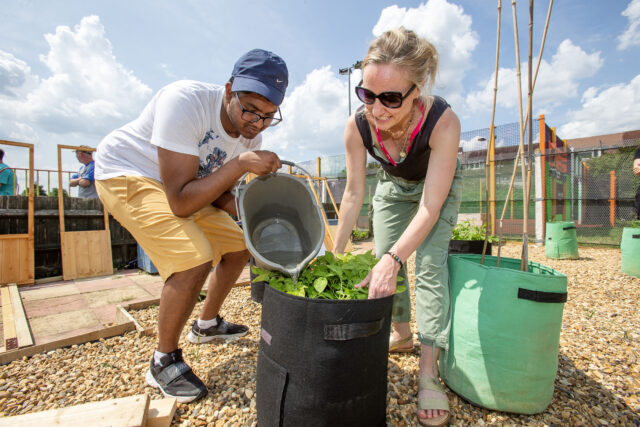 There's a still an unfair stigma about employing young people with a learning disability. It's something we need to overcome as a society, and the best way to do it is through young learners showing what they can do.
This is what we're working towards at Mencap in Kingston, just south of London. Led by young learners themselves, we're building links with other local people, educating them on healthy eating and even growing food for a local food bank.
It's all funded through the Co-op Foundation's #iwill Fund and we're seeing real changes in the community and – importantly – among the young people we work with, too.
One young person had spent two years with their fists firmly closed because of challenges with anxiety. Now, they're helping to build a new community allotment and learning skills on the way! There are many small but significant developments like this that we've seen with learners over the past year.
The background to our work
I'm Lindsay and I work on Mencap community projects across London, including in Waltham Forest and Islington, in north London, and Kingston, in south west London.
It's really meaningful for me to work here. Outside Mencap, I run a training and development business, which complements the work I do here. I enjoy being a part of the community and Kingston is my hometown so it's particularly rewarding.
I've been at Mencap for a year and I've worked on this project throughout this time. It can be like four seasons in a day sometimes because you just don't know what's going to happen. But I love it. We all work together at Mencap to support learners as they build the skills they need for new jobs.
What young people are learning
Our #iwill Fund project is an employability project at heart. Young learners often have all the skills they need to succeed in a job. This project is about giving them a chance to showcase this and build on what they're already great at.
We work with young people aged 17 to 24 years old and over the past few months they have:
Asked local people how we can make their lives better: In Kingston, we've co-created a campaign about accessing healthy food. In Islington, we're supporting people during the cost-of-living crisis and, in Waltham Forest, we've created kits to support homeless and vulnerable people.
Helped to build a community allotment: Our young learners are gaining practical skills they wouldn't get in school, like sowing seeds and using tools.
Ran an event for hundreds of local people to raise awareness of accessing healthy food: Young learners presented to local people, councillors and the MP about the community support they're providing. Through this, they're gaining skills they'll take into work, and making important contacts locally.
Across our three London projects we have engaged more than 20 learners to create, develop and implement our work. In total, we've gone on to reach and support hundreds of local people.
Making a difference for young people, and me
Our impact is about so much more than numbers; young learners are changing their own lives, too.
For example, some learners can struggle with change. In Kingston, we work outside and this means we sometimes alter plans because of the weather. This has helped them build resilience to changes in their routine that will help in a neurotypical world.
Personally, I've learned about the importance of adaptability throughout this project. If you are too rigid with plans, you miss out on opportunities and important moments in a young people's self-development journey.
Read more about Mencap.
A word from the Co-op Foundation
We're the Co-op's charity and we're co-operating for a fairer world. We do this through our funding for projects, like Mencap Waltham Forest, which has received £113,000 from our £5m #iwill Fund over three years.
The #iwill Fund is our longest match funding partnership to date. This round of funding is helping us to build communities of the future together with young people by helping them improve access to community spaces. It's all part of our new vision and it's supported by amazing Co-op Members when they shop in store!
In addition to Mencap's work featured here, you can read stories from two other #iwill partners – Greater Manchester Youth Network and The Proud Trust – as well as learning from a recent evaluation. You can also find out what Co-op is doing to improve youth opportunities through its Peer Action Collective with #iwill and the Youth Endowment Fund.
Thank you to all the young people working hard to make positive changes to our communities, through our #iwill Fund.
Help young people do even more by donating to the Foundation online or giving your Co-op Member Reward. You can also sign up to our blog to keep up to date with stories from our partners and find out first about new available funding.

The #iwill Fund is made possible thanks to £66 million joint investment from The National Lottery Community Fund and the Department for Culture, Media and Sport (DCMS) to support young people to access high quality social action. The #iwill Fund supports the aims of the #iwill movement – to make involvement in social action a part of life for young people, by recognising the benefit for both young people and their communities.