Sharing our learning from our first ever campaign
Earlier this year, we announced that 2023 would be the last year we'd promote our youth-led behaviour change campaign, Lonely Not Alone. This was a difficult and emotional decision for us because it's a campaign that's really close to our hearts.
However, in line with our commitment to listening and learning, we want to use this as an opportunity to openly share everything we got right – and got wrong – during five years of tackling stigma with young people.
This learning will be of interest to anyone working in campaigning, charity comms or youth co-design and we'd love you to join us at our learning webinar from 12pm on 11 October.
Sign up on eventbrite today. We hope to see you there.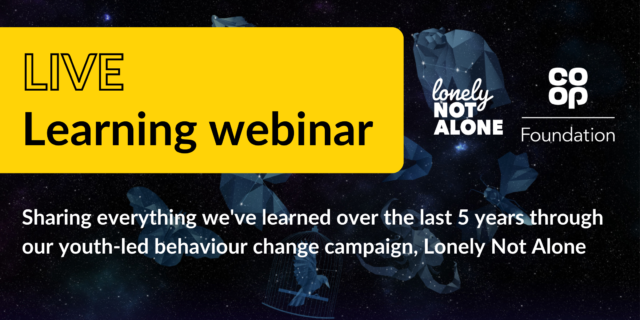 Who is the learning webinar for?
We've made big strides to tackle the stigma of youth loneliness over the past five years, all thanks to young people. At its peak, 25% of young people in the UK had heard about Lonely Not Alone and more than 300 stories and 60 messages of support have now been added to our beautiful lonelynotalone.org digital universe.
There are many components to Lonely Not Alone that have made the campaign what it is today – from publishing five pieces of research into youth loneliness to effectively co-designing an impactful campaign with young people. This means there is valuable learning for people from a wide range of different sectors – including campaigners, researchers, marketers, youth sector organisations and co-designers.
And we think it's the right decision to share this openly so others can benefit.
Sign up to our webinar
We will be hosting our virtual learning webinar on 11 October at 12pm. You can sign up now via eventbrite. There will be a Q&A section towards the end of the webinar so come armed with questions.
Lonely Not Alone is a unique campaign that I've had the pleasure of looking after since April last year. It is a truly co-operative campaign that is unlike any I've managed before. There is so much we have learned from Lonely Not Alone and I'm not only looking forward to incorporating this learning into our new campaign work, but also sharing this insight in October with the wider sector to make sure Lonely Not Alone has a lasting legacy.
Stay up to date with our future campaign work by signing up to our Co-op Foundation newsletter below.
You can find out more about our reasons for no longer promoting Lonely Not Alone here.