#ValuesInAction – investing wisely to make a difference to society
Friday 29 June 2018
Co-ops care about their impact on society and use resources ethically and sustainably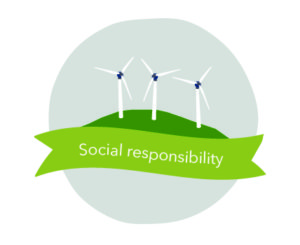 Co-op Foundation commits to:
Putting ethics and values at the heart of our decisions – from how we raise our funds to how we spend them
Making the most of our resources, and encouraging others to contribute what they can towards shared goals
Balancing risks and opportunities to maximise our impact
In our latest blog for Co-operatives Fortnight on how our values impact on everything we do, we look at how our investments can combine financial returns with achieving great things for communities and the environment…
Like all charities, the Co-op Foundation has a responsibility to use its resources as efficiently as possible. That includes getting a good financial return from any funds we have available to invest.
However, with our co-operative values and our commitment to communities at the heart of everything we do, we want to make sure our investments are fully in keeping with our mission.
We are lucky to have an endowment fund which is our financial bedrock – investing these funds provides a regular income that covers all our day-to-day running costs, so that your donations can go directly towards our community projects. In our Impact Report 2017 we explain how these funds are invested responsibly, for example avoiding sectors like arms and tobacco manufacturing.
Taking our social responsibility up a level
This year, we will also start investing in individual social enterprises that we have chosen specifically for their positive impact on people and the planet. The first of these is Energy Garden, a partnership from Repowering London, Groundwork London and Transport for London that has converted areas next to 30 London railway platforms into thriving gardens with connected solar panels.
The benefits of this innovative scheme are that while food-growing gardens give local communities and commuters an enjoyable place to visit, the panels provide the added boost of on-site renewable energy for lighting, water pumps and other station amenities. This helps to save money and – importantly for all of us – also protects the environment.
We're delighted our investment will help Energy Garden expand into even more locations, providing long-term financial returns for us as an investor that contribute to our own sustainability, and a social return for local communities across London.
Find out more
Have you been keeping up to date with our #ValuesinAction blogs? Read them all online and tell us what you think on Twitter and Facebook.