#ValuesInAction – going the extra mile for honesty and openness
Sunday 1 July 2018
Co-ops are open about what they do and how they live up to their values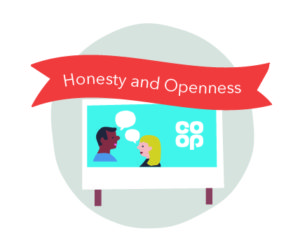 Co-op Foundation commits to:
Telling stories from our work that champion the co-operative difference
Sharing our plans, celebrating success and being open about where we think we can do better
Clearly and simply explaining what we do and why
In our latest blog for Co-operatives Fortnight, we look at how our values of honesty and openness are helping us give a voice to the young people and communities we support …
Last year, 160 schools and community groups were supported by our volunteers, while the youth projects we funded will provide opportunities to more than 2,000 young people. We launched our £2 million #iwill fund to tackle youth loneliness through social action, and we helped 80 charities improve their digital skills and services.
These achievements and more will be covered in the annual report and accounts that we are required by law to publish each year on the Charity Commission website. But because of our commitment to honesty and openness, we wanted to share them with our partners and supporters sooner, and in a more accessible format. That's why, in January, we released our first-ever annual Impact Report.
What honesty and openness means
We believe honesty and openness is about much more than sharing our successes. It's also about communicating in a way that is engaging and interesting for you – our donors, supporters and partners – and being transparent about our challenges as well as our achievements.
This includes giving a platform to the young people and communities our work supports. In the coming year, you'll see us do this through videos, audio clips, case studies and more across social media and on our website. Communicating the impact and solutions to youth loneliness is important for influencing change, and who better to do this than young people, themselves?
We'll also work hard to be open both about how we spend our money and how we raise it – including through our investments, which as you might have seen from yesterday's blog, are also driven by our values.
Grant giving
As part of our commitment to transparency, we work with 360Giving to publish information about our grants.
Get involved
As the leading UK funder tackling youth loneliness, the Co-op Foundation team is fortunate to work with inspiring partners and young people whose stories we can share with you.
But this is just half of the conversation, as we also want to know what you think about our current work, and to help us shape how this will develop in the future.
Get in touch with us on email, on Facebook or on Twitter and be a part of our journey.