#ValuesInAction – Giving young people a say in how we allocate our funding
Saturday 30 June 2018
Co-ops give all members an equal say and make it easy for their voices to be heard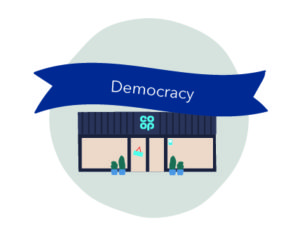 Co-op Foundation commits to:
Listening to the communities we serve, and helping them have a stronger say over what matters to them
Widening participation in community action, so that it is representative of the whole community
Involving all our stakeholders so they can contribute to shaping our work on an equal basis
In our third blog for Co-operatives Fortnight on how our values guide everything we do, we look at how communities and young people are having on say on how we allocate our funding …
Youth loneliness is a complex issue and there is no one-size-fits-all way to tackle it.
The projects we support are improving young people's lives through activities ranging from theatre to cookery. You can check out our full list on our website. But what they all have in common is that young people themselves determine what matters most to them and how to go about creating change.
So how, as the leading funder of projects tackling youth loneliness in the UK, do we decide which projects to support?
With democracy and young people's voices at the centre.
Young panel volunteers
For our first round of #iwill funding last year, we travelled to Bedford, London, Leeds and more to give regional representatives a say on how we should allocate our funding in their area.
Our panels were made up of community figures, locally-based members of the Co-op Members Council and – importantly for a youth-focused fund – young people from the area. These were our Young #iwill Panel Volunteers and they gave fantastic insight into which projects they believed would make the biggest impact in the community.
One of these volunteers was Jess, who works in a Co-op store in Kent. This is what she had to say about the importance tackling loneliness:
"I think loneliness is still an unspoken issue, and it can be hard for young people to deal with. It's important we make young people aware of the opportunities that are out there to get involved in their community. By helping the Co-op Foundation, I found out about some amazing things happening locally for young people like me – and it was great to be part of something that will make a real difference."
Thank you to all the young people and community figures who took part in our #iwill regional panels. We'll be out and about again in the coming months as we look over the latest #iwill applications. Keep an eye on our blog for more info.
Being part of the national loneliness discussion
With loneliness – across all age groups – now being firmly on the Government's agenda, we're committed to making sure young people's voices are heard.
We believe this means involving young people in research and policy so they can use their first-hand experience to guide government and others in finding long-term solutions.
Our recent "All our emotions are important" report put young people's voices at the centre of youth loneliness research, and we're using the findings to design our new joint £2 million fund with Government. You can read more about what this research uncovered in our blog.