#ValuesInAction – Championing equality for LGBT+ young people
Thursday 28 June 2018
Co-operation is about treating people fairly and valuing everyone's contribution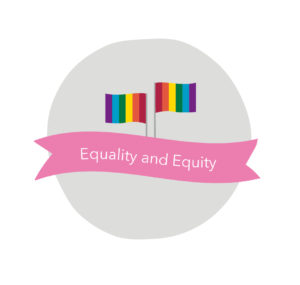 The Co-op Foundation commits to:
Sharing our resources fairly to support communities in all parts of the UK
Giving extra help to communities that are facing the biggest challenges
Making sure everyone, whatever their background, can access opportunities and have their voices heard
In the second in our series of blogs for Co-operatives Fortnight on how our values guide everything we do, we look at how our funding for The Proud Trust is helping LGBT+ young people overcome loneliness and champion equality …
Confidence is key for young people looking to make friends, gain skills and get active in their communities – and that's exactly what the Proud Trust has been helping to build for LGBT+ young people across the North West for the past 30 years.
To support their work last year, the charity successfully bid for £35,000 from our #iwill Fund to deliver a year-round programme of support sessions for young people, as well as volunteering opportunities and youth-led campaigns.
But it wasn't just about building pride for the young people who visited the Trust – it was also about helping them to build bridges within their communities.
Reaching new audiences
For many LGBT+ young people, coming out to friends, family and local communities can be difficult and, in some cases, isolating. The Proud Trust was determined to combat this and so used some of our funding to develop campaigns to engage local communities in LGBT+ issues. And who better to create and run these campaigns than the young people themselves?
The first campaign works in partnership with Co-op Academies to create a 'Straight Allies' ambassadors group to champion inclusivity for LGBT+ young people at school. Alongside this, they're developing a community-based programme for adults from black, Asian and minoritised groups to help tackle the issues that lead to LGBT+ young people withdrawing from their communities and feeling lonely.
We're delighted to support the Proud Trust and we thank all the young people involved in the Straight Allies programme and more for their amazing commitment to social action.
Read more about The Proud Trust on its website.
All about #iwill
#iwill is a UK-wide campaign to get six out of 10 young people involved in social action like campaigning, fundraising or volunteering by 2020. Read the Co-op Foundation's #iwill pledge to support youth social action.
The #iwill Fund is made possible through investment from the National Lottery Community Fund and Department for Digital, Culture, Media and Sport. £1m from the #iwill Fund is being matched by £1m from the Co-op Foundation.
We've already funded 10 projects – including the Proud Trust – and we'll be awarding a further 10 grants later this year. Keep an eye out on our blog and Twitter feed to see when the next round of grants is announced.
Check in tomorrow to read more about how we champion democracy through projects like our Youth Advisory panel #ValuesInAction