#ValuesInAction – Sowing the seeds for a more empowered community in Hulme
Wednesday 27 June 2018
We empower communities through the co-operative values of self-help and self-responsibility, helping people work together to make things better.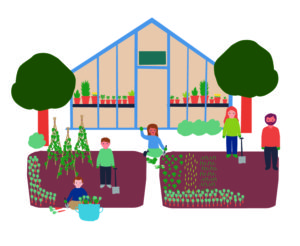 In the first in a series of blogs for Co-operatives Fortnight on how our values guide everything we do, we look at how our funding for Hulme Community Garden Centre is empowering the community in south Manchester…
Spaces and places for local people to come together are vitally important for building stronger communities.
That's exactly what's happening at Hulme Community Garden Centre, in south Manchester, where a Co-op Foundation grant and interest-free loan are helping to sow the seeds for long-term success and greater community self-reliance.
Tell me more about Hulme Community Garden Centre
Hulme Community Garden Centre was set up as a not-for-profit co-operative in 1988. Its members and volunteers are central to everything it does and it is through their hard work that, for the past 30 years, the centre has been able to provide a much-needed space for local people to come together to enjoy gardening and take part in community activities.
Funding for the centre comes from donations, such as recent support from the Co-op's Local Community Fund, as well as sales of ethically-sourced plants and vegetables. However, when it needed a significant cash injection to build a new shop and volunteer hub as well as increase the centre's innovative community offer, the team successfully applied to the Co-op Foundation's Community Spaces programme for a £40,000 grant and a £50,000 interest-free loan.

In this video, Rachel, from Hulme Community Garden Centre, explains how Co-op Foundation is helping the centre increase its local community offer (watch on YouTube)
The impact
Everything we do at Co-op Foundation is guided by our values, and our investment in Hulme Community Garden Centre shows how self-help and self-responsibility can make a real difference to local people.
A great example of this is a new staff member who will be funded to train local people how to grow micro-crops. Profits from these sales will then help fund the centre's community volunteering programme to create more capacity and, ultimately, more positive impact! And all of this is in addition to the extra skills local people will be pick up from the centre's training.
We're proud to be funding innovative work at Hulme Community Garden Centre. Read more details about what they do on their website.
Get involved
"This is the first time we've taken the plunge to loan finance but it feels far more in keeping with our ethos to do it through the Co-op Foundation" – Rachel, Hulme Community Garden Centre Manager
Could your community organisation apply for financial support through our Community Spaces programme?
We can offer:
Interest-free loans of up to £50,000 towards viable business ideas that will benefit the whole community – particularly those facing greater challenges.
No repayments for the first year, while your trading activities are developing
If you are based in a more deprived area, or your work mainly benefits more disadvantaged members of the community, we might also be able to offer some grant funding alongside a loan.
Fill out an expression of interest online.
Check in tomorrow to read more about how we promote equality and equity through our funding for the Proud Trust #ValuesInAction