Pull your (yellow) socks up and show lonely young people you're standing with them
Lonely Not Alone campaign asks us all to do our bit as research shows seven in 10 young people are lonely at least occasionally but less than a quarter think society treats the problem seriously
Young people are launching the second phase of their campaign to beat the stigma of youth loneliness today (7 October), as new research from the Co-op Foundation finds the Spring lockdown made even more young people feel lonely.
Lonely Not Alone asks everyone to show they care about youth loneliness by wearing yellow socks and sharing their 'Outfit of the Day' on social media with #OOTDYellowSocks. Young people who made the campaign say yellow socks are their symbol of solidarity when they feel lonely and look to the floor.
The campaign was made by a group of 12 to 22-year-olds working together on Zoom during lockdown. They all had different experiences of loneliness, including a young carer, a graduate unable to find suitable work and a young person heading to university this year to study nursing.
Today's launch follows research of 2,000 10 to 25-year-olds UK-wide. Three quarters of those surveyed (76%) said they felt lonely at least occasionally during the March to July lockdown compared to 59% before restrictions began. Levels of loneliness dropped after July 4, however, all but one age group reported they felt lonelier after lockdown began to ease than before.
Today, seven in 10 young people (71%) say they are lonely at least occasionally.
The research also found that:
78% of 16 to 25-year-olds missed out on life events or celebrations during lockdown, including going on holiday, graduating from university and going to their prom.
Less than a quarter of young people (23%) think society takes youth loneliness seriously while only a third (36%) feel confident talking about loneliness
27% of young people would be uncomfortable asking for help if they felt lonely while a fifth (19%) said loneliness was something to be embarrassed by.
Despite this, young people want to help friends and peers who feel lonely. 91% would be comfortable taking an action to help others, including more than half (52%) who would take part in a campaign like Lonely Not Alone.
Elorm, 16, from Manchester, is a young carer who's involved in Lonely Not Alone for a second year. She said: "Going out with friends is complicated [as a young carer]. I feel like if I leave, something might happen to my mum or she might need me. Everything feels so much. I want to help people who may feel lost and lonely in a situation like mine. They may not be able to speak up, but if they hear my story, they will know they are being supported."
Harry, 22, recently graduated with a first-class degree in Media Arts from the University of Plymouth. He's now looking for suitable work. He said: I wanted to get involved in Lonely Not Alone because the power of campaigning and creativity can truly make an impactful mark on the world and cultivate positive discussions. I have experienced loneliness throughout my life but I don't think I am very different. Everyone experiences loneliness, it just needs people like us to make the first step (in this case in our yellow socks)!"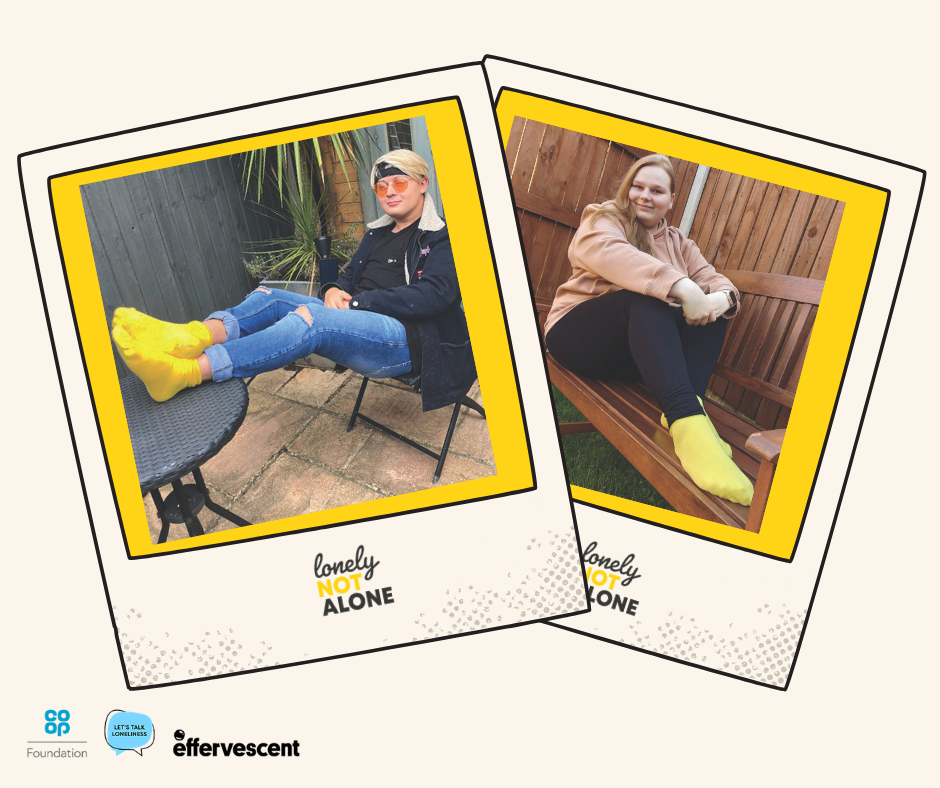 Lonely Not Alone is funded by Co-op's charity, the Co-op Foundation.
The Co-op Foundation helps people challenge inequality and co-operate for change, so they can share a fairer future. It has already helped thousands of young people beat loneliness by awarding more than £6.5m to projects UK-wide and helping to develop networks and resources to support youth workers long term.
Jamie Ward-Smith, Chair of the Co-op Foundation said: "Lonely Not Alone is an important part of our long-term commitment to helping young people beat loneliness. Working through a period that's been so unsettling and challenging for everyone, it's been inspiring to see our young co-designers step up to produce such a powerful campaign. And it's really easy to get involved and show your support. That's why we want everyone to wear their yellow socks, post their selfies online and show they care about youth loneliness. Let's make sure young people know that even though they might be lonely, they're not alone."
Minister for Loneliness, Baroness Barran said: "This year has brought loneliness to the forefront of all our minds, and it's more important than ever that we look out for our young people. I'm pleased to work alongside the Co-op Foundation to raise awareness of this issue, tackle the stigma and encourage people to reach out to someone so that no one needs to feel alone."
Read about Lonely Not Alone at www.lonelynotalone.org
ENDS
For more information or to request interviews with young creatives please email Co-op Foundation Communications Officer, Hannah Charlton, or call 07713 314894.

Notes to editors
'In This Together' research
Read more about young people's experiences of loneliness in lockdown and beyond at http://bit.ly/lna-together
About Opinium
Research was carried out by Opinium, a market research and insight agency. The research was conducted among 2,000 10 to 25-year-olds and is weighted to a nationally representative criteria. Research was carried out between 18 August to 1 September
About Lonely Not Alone
Young people are lonely more often than any other age group, but they don't talk about it because they don't think other people will understand, or be able to help.
Lonely Not Alone has been created by young people for young people to show youth loneliness matters.
Wear yellow socks and share your Outfit of the Day (#OOTDYellowSocks) to show young people everywhere that they might be lonely, but they're not alone.
We wish to think Mencap and the Royal Society for Blind Children for supporting accessibility within this year's Lonely Not Alone campaign.
About Co-op Foundation
Co-op Foundation is the Co-op's charity, helping people challenge inequality and co-operate for change, so they can share a fairer future.
The Foundation exists to make a difference long-term for communities that need it most. For the next few years we're focusing on:

Sharing everything we've learned tackling youth loneliness so others can do more to make a difference that lasts.
Funding in partnership with others to help communities work together to make things better.
Investing in organisations that truly represent those who are often ignored and increasing their power to speak up and take action for a fairer future.
About Effervescent
Effervescent is a unique design consultancy that matches ethical brands and organisations with the right children and young people to create extraordinary campaigns that make an extraordinary difference
About Let's Talk Loneliness
Let's Talk Loneliness is a national campaign that was created following the publication of the Government's loneliness strategy, A Strategy for Tackling Loneliness, in October 2018.
Let's Talk Loneliness aims to encourage people to talk about loneliness and reduce the stigma of loneliness.