Young people tackling loneliness in lockdown and beyond
Thursday 16 April 2020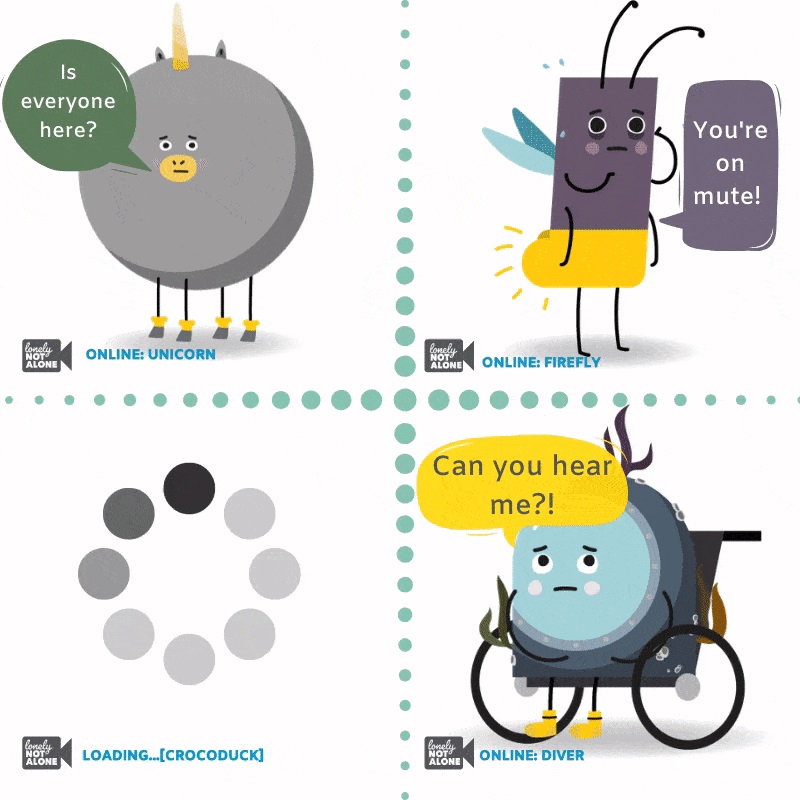 Young people from across England are joining forces this week on the digital conferencing app Zoom to build on a campaign that will help break down the stigma of youth loneliness.
The group of 13 to 25-year olds, most of whom have never met before, are spending five days in online workshops and digital creative sessions led by specialist co-design agency Effervescent. They will develop year two our Lonely Not Alone campaign online after our initial plans for a physical meet up were cancelled due to lockdown.
As well as building up the campaign for 2020, the sessions will give the young creatives the chance to make new friends and beat their own feelings of loneliness while schools, colleges and universities are closed.  
Lonely Not Alone will launch later this year asking people to wear yellow socks when and where they like to show they care about youth loneliness. Young people chose yellow socks because the colour represented hope when they felt lonely.
As the UK continues in lockdown, the creative group also wants to encourage people to show they care now by posting supportive messages for young people who may feel lonely at #LonelyNotAlone.
Elorm, 15, is a young carer who helped to create the campaign last year. She is helping this year, too, and said: "Lonely Not Alone is important to me because it'll help break the stigma around loneliness and create a community and bond between young people, children and people around them. Taking part has boosted my confidence, too, and added more skills to what I can do."
Jim Cooke, Head of the Co-op Foundation, said: "Our Lonely Not Alone campaign encourages people to show they care about youth loneliness whenever and wherever they like. This message is more important than ever right now, with schools and youth clubs closed and social events cancelled, taking a heavy toll on young people's wellbeing. Get involved today, show your support and share your story at #LonelyNotAlone so young people everywhere can see that although they might feel lonely, they're not alone."  
We fund the Lonely Not Alone campaign, building on the government's Let's Talk Loneliness campaign.
It was informed research that found only 26% of young people feel confident talking about loneliness while even fewer (23%) think society treats it seriously. Researchers spoke to 2,044 young people aged 10 to 25 years old UK-wide and also found that less than a third (31%) would be comfortable asking for help if they felt lonely.
However, research also found that lonely young people are proactively trying to overcome their feelings of loneliness, and help others:
74% of young people have taken at least one action that helped with their own feelings of loneliness
73% have tried to help other young people who might be lonely
An estimated 1.7 million young people across the UK would be comfortable helping their peers to beat loneliness, but are yet to do so
Read more at www.lonelynotalone.org or post your positive message on social media using #LonelyNotAlone
We are the leading charity tackling youth loneliness in the country. We've awarded £6.5 million to projects UK-wide while also supporting the development of resources and networks to help youth workers identify and tackle youth loneliness with greater confidence.