Grangetown – a community united
Spaces for people to come together and enjoy shared interests are vital for building stronger communities.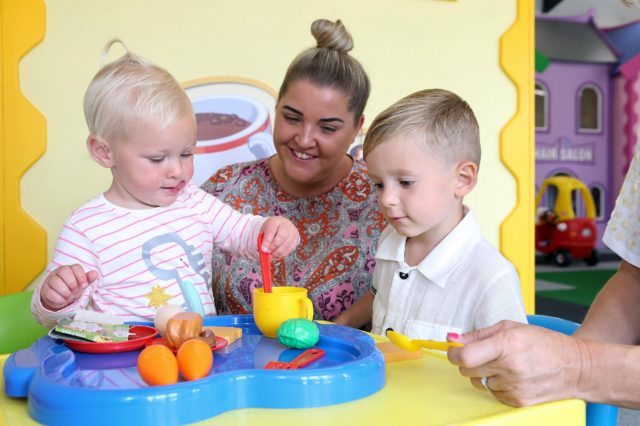 This is particularly important in communities that have faced long-term economic or social challenges, such as Grangetown, near Middlesbrough.
Grangetown suffered significant job losses in the 1980s after the collapse of local mining and steelwork industries. It is currently in the 1% most deprived neighbourhoods in England.
Despite these challenges, people in Grangetown are passionate about their community. Our funding for local organisation Future Regeneration of Grangetown (FROG) is helping them turn a derelict former social club into a vibrant and sustainable hub.
"If it wasn't for the Co-op Foundation, we wouldn't have been able to open," says Lynn Pallister, Future Regeneration of Grangetown director. "They helped fund our play area and café, and also supported our early operating costs. Thanks to them, we've become a really important part of the community."
Giving people a voice
A group of local volunteers launched FROG more than 20 years ago to help the community thrive again after years of job losses, demolition and service closures.
They spoke to people from across the local area to find out what would make the town a vibrant place to live.
Lynn said: "Residents told us they wanted a place where they could come together and a place to bring their children. They wanted a café area where they could socialise because since the 1980s we've lost our pubs and clubs, as well as lots of homes."
A new community centre
FROG identified a derelict former working men's club as the venue for their new community centre, which they have called 'Grangetown United'.
Funding was secured from a range of partners, including the Co-op Foundation. We awarded a £50,000 interest-free loan and £30,000 grant to support building work in the creche and café that would eventually provide a sustainable income for the centre. This income also helps the team subsidise paid-for community events for residents on lower incomes.
Lynn said: "We lost thousands of local jobs in the 1980s and the area has never really recovered. 'Grangetown United' has allowed us to put regeneration back into the town, and give local people access to services they desperately need.
"The impact on the community has been amazing. We had more than 2,000 people through our doors in the first three months. It's bringing people together again and the community sees it as their building. Everyone wants to be part of it."
Save our spaces
Read how Co-op's Endangered Spaces campaign is working with local communities to protect, support and improve the spaces they value. Endangered Spaces is part of Co-op's Community Plan, Co-operate 2022.