Bringing theatre to the front room
"I really look forward to it – I love it. When all the names start popping up on Zoom, and everyone's waving and asking how you are – it's a lovely feeling. You feel like you're not alone."

Geoff, The Life Rooms participant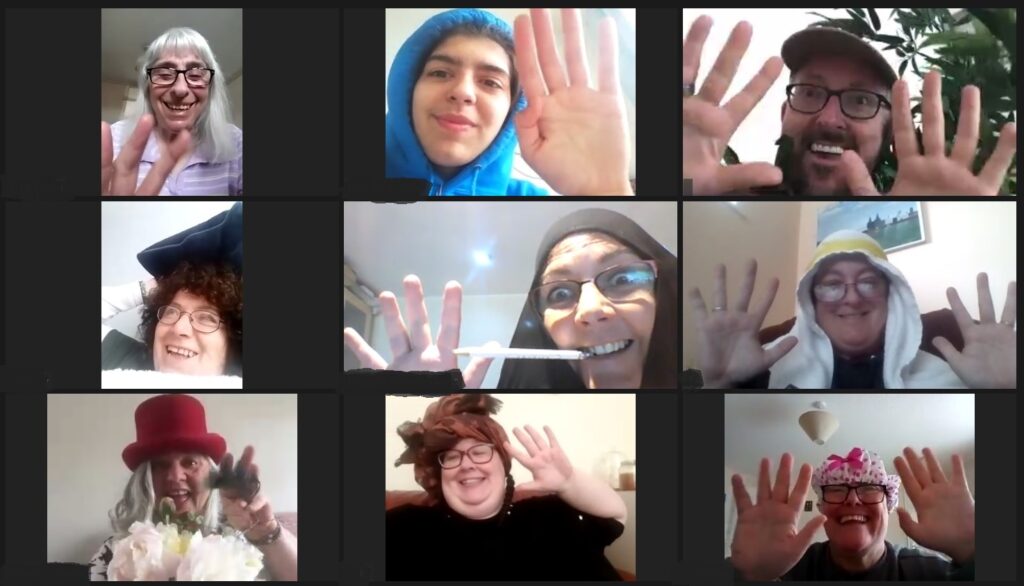 The Life Rooms at Liverpool Playhouse is one of five wellbeing projects led by mental and community health trust, Mersey Care NHS Foundation Trust.
The scheme uses social prescribing to encourage marginalised and isolated adults across Liverpool city centre to join creative sessions. The sessions improve mental health, boost self-esteem and create a sense of belonging.
Work is funded through a £40,000 grant from our Space to Connect partnership with the Department for Digital, Culture, Media and Sport.
Twice-weekly sessions ran at the Playhouse between January and March 2020 but the COVID-19 lockdown forced the team to find new ways to get creative and beat loneliness.
Liverpool Everyman & Playhouse theatres moved to a live and interactive online programme of creative activities, in partnership with Mersey Care.
Learning a new art form
Rebecca Ross-Williams, Creativity & Social Change Director at the Everyman & Playhouse says:
"The idea of doing something online that's performing arts-focused is really challenging.

"A lot of the benefit from our regular sessions was simply about being in a room together, so moving to virtual activities could have been a risk. However, our daily drama sessions have shown to be an essential part of the participants' routine for the week. And it's enabled people to continue their friendships, too."
Current online activities from The Life Rooms include play readings, creative writing sessions, and singing groups. A digital theatre session also runs weekly, where participants get together to live-stream theatre productions.
A creative lifeline
The sessions are so far proving to be a hit. People who haven't previously been able to take part in the sessions at the Playhouse, or those who need extra support during lockdown are now joining online.
Gary Thorpe, Service Lead at Mersey Care NHS Foundation Trust, says:
"A really good measure of the success of this partnership is the idea that, despite the physical sites shutting, there remains a sense of membership and belonging to the Playhouse Theatre.

"It's a really good vehicle to deliver health messages at a time like this. There's an awful lot of people who are already socially isolated for a lot of different reasons, but the online sessions enable them to connect and instil hope on basic human level."
Positive response
Geoff has been involved in The Life Rooms programme from the beginning. He said the sessions have been really helpful during lockdown:
"If I didn't have The Life Rooms during lockdown, I don't know where I'd be.

"It's a really good tool for people – we all really look forward to it. We have a WhatsApp group, too. At the end of the session, people are messaging saying how good it was. We've become like a family unit and we're all very supportive of each other.

"Everybody needs structure, especially if you're on your own. It means you know you're going to see people and you're not going to be in this silence."
Read more about The Life Rooms at The Playhouse.
About Space to Connect
The Liverpool and Merseyside Theatres Trust is funded by Space to Connect – our £1.6m partnership with the Department for Digital, Culture, Media and Sport to identify, improve and protect spaces where people can connect and co-operate. Read who we funded.