Joining forces with Co-op to give away power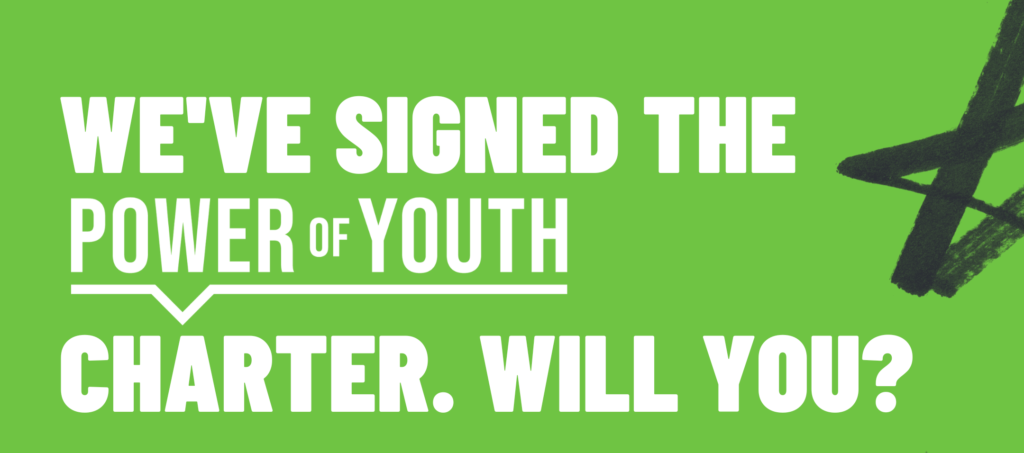 Today's young people are the next generation of community leaders, pioneers and members. 
That's why we're marking the start of #iwill Week by joining the Co-op to sign the #iwill Movement's Power of Youth Charter. This charter contains a series of commitments to empower young people and give them a real say in our future.
Download our commitments or check out the Co-op's own pledges in this charter.
We believe all young people should be empowered to make a positive difference to the issues that affect their lives, their communities and broader society. Join us by signing up to the charter for your organisation and let's build communities of the future together.
Youth-led
We're Co-op's charity and we're co-operating for a fairer world.
We believe co-operation is at the heart of strong communities and this makes us a different kind of funder. It's why we asked young people to create the Future Communities Vision for our new 'Building communities of the future together' strategy. It's also why we committed to funding young people directly in the future so they can make even more of an impact in their communities.
Our commitment to being youth-led builds on our youth co-designed Lonely Not Alone campaign and £5m #iwill Fund.
Co-op is similarly committed to acting on the voices of young people. This includes being part of the Peer Action Collective – a £5.2 million programme that aims to give young people the chance to make their communities safer, fairer places to live.
#iwill Week
We mark #iwill Week every year by highlighting the amazing impact young people have when they're put in the lead. Just look at how they've been helping peers with additional needs use public transport, in Manchester, or move up to secondary school, in Oxford, for inspiration.
This year, I'm proud that we can go a step further and highlight our own commitments to empowering young people through the Power of Youth Charter.
Our commitments include:
Giving diverse young people a voice in future funding decisions and taking a holistic, respectful and inclusive approach to supporting those we work with. This will begin when we launch the first round of our Future Communities Fund on Friday 25 November.
Driving positive change through campaigns informed by young people. Young people created our Future Communities Vision which will guide all the campaigns we run from next year. Keep up to date by subscribing to this blog.
We now encourage other funders and charities to join us. Sign the charter and give young people the power they deserve to influence change. As one young person said in our strategy development work:
"Young people have so much more to offer the world than they are given space to."
A word from Co-op
We're excited to sign the Power of Youth Charter at the same time as Co-op. This shows our joint commitment to youth-voice and – more importantly – youth power.
Read their commitments here.
This is what Shirine Khoury-Haq said about their pledges:
"The future is uncertain. The voices and actions of young people are essential to building better communities for the future.

"Our research shows that as many as one third of young people feel the odds are now stacked against them for their future. This is why Co-op has signed the #PowerofYouth Charter. We are fully committed to working with young people to make a difference on the issues that matter most to them, whilst co-operating to create fairer communities and fairer access to opportunities.

"We encourage other businesses to join us in signing this charter empowering young people to make a positive difference."
We look forward to working together with Co-op to make a difference to young people and communities.
Let's build communities of the future together.
Keep up to date with our progress by signing up to our blog (below). You can continue to support us by giving a one-off or regular donation. Co-op Members can also donate their Member Reward online or on the Co-op app.