We're recruiting four new Trustees
Friday 10 August 2018
Bringing more diverse skills and backgrounds to our Board will help us prepare for the next phase of our charity's development. Could you be part of this?
The Co-op Foundation is the Co-op's charity. Our vision is of strong communities, where people work co-operatively to make things better.
Following a major governance and strategy review, the Foundation rebranded and relaunched in 2017.
Since then, we have established 'Belong', a distinctive and influential UK-wide programme addressing youth loneliness. As part of this we're delivering the £2million youth strand of the Government-backed Building Connections Fund, as well as another major match funding partnership with the #iwill Fund. Other significant recent developments include a new offer of interest-free loans to support the sustainability of community spaces, and support for digital skills and innovation through the development of the Charity Digital Code and a partnership with Omidyar Network. For more information our work, visit our website.
We are currently recruiting four new Trustees, as we expand our Board in readiness for the next phase of the Foundation's development. In the coming years we expect to significantly increase our strategic engagement with the wider community activities of the Co-op, maximising the benefits of aligning our focus with our parent business, while maintaining the charitable independence of the Foundation's governance.
What we're looking for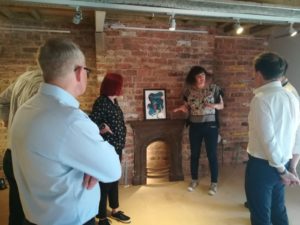 Our Board includes senior Co-op colleagues, members of the Co-op National Members' Council, as well as independent Trustees who are otherwise unconnected to the Co-op. We are keen to attract suitably skilled and experienced candidates from each of these backgrounds to apply for the current vacancies. The duties and requirements of all Trustees are detailed in the role profile.
In line with our strategic focus and to ensure a balance of skills and experience on the Board, we are particularly looking to recruit Trustees with any of the following areas of expertise:
Good working knowledge of the social enterprise and/or social investment sectors
Digital
Fundraising (in particular, the ability to influence and provide insight into fundraising opportunities that may be available through the Co-op and its stakeholders)
Good understanding of effectively engaging communities and facilitating co-operation and partnership working.
The Foundation is committed to diversity and inclusion, and aims to build a team that reflects the communities it serves UK-wide. We welcome applications from all suitably skilled and experienced candidates. However, in order to address current areas of under-representation on our Board, we are particularly keen to hear from suitable female candidates and from those aged 35 and under.
Apply by 3rd September 2018
To apply, please email your CV, with a covering letter of no more than 2 pages describing your motivation and suitability for the role, to the Foundation Secretary Steve Fowler.
If you would like an informal discussion about the Co-op Foundation and the role of Trustee, please contact the Head of Foundation, Jim Cooke.
Interviews will be held on 12th September in London and 14th September in Manchester. We'll do our best to offer shortlisted candidates their preferred date / location.