Going digital to engage young people during covid-19
"All our youth workers have now had social media training. We all spend time connecting with young people on social media platforms and emails, and there is so much more flexibility we can offer. I've gained much more confidence and I'll continue to work this way moving forwards"

Sarah Lee, Youth and Community Worker at MAP
In 2018, we awarded Norfolk-based Mancroft Advice Project (MAP) £77,000 from our Building Connections Fund to work with local partners and help young people at risk of loneliness improve wellbeing, build relationships and deliver community campaigns.
Like almost all organisations, Covid had a huge impact on their output in 2020. Projects moved online and youth workers had to learn new skills to engage with young people who relied on MAP for support.
Our flexibility allowed them to do this while also ensuring they could develop their team's skills and report some fantastic outcomes for young people.
One young person said: "If MAP wasn't around during COVID I would have been completely socially isolated. The impact would be negative and, along with my mental health, it could be detrimental. Honestly, the work with MAP is saving me while I wait for support from my local mental health hospital."
Who is 'MAP'?
MAP provides counselling, youth work, and advice and support for young people aged 11 to 25 years old in Norfolk.
They used the Building Connections Fund grant for life coaching sessions, weekly meet-ups and organised activities for up to 220 young people. They wanted to address loneliness through early intervention so young people could develop social confidence and emotional resilience.
Sarah Lee, Youth and Community Worker at MAP, said: "Young people are often misunderstood in local communities. They are stereotyped as causing problems and doing things they should not be. The truth is young people need support because loneliness can cause a lack of engagement, isolation and a rise in mental health problems."
One young person from MAP said the support they've received has had a huge impact: "[MAP has] given me emotional support as well as enabling me to connect with a group of young people. This is giving me a purpose."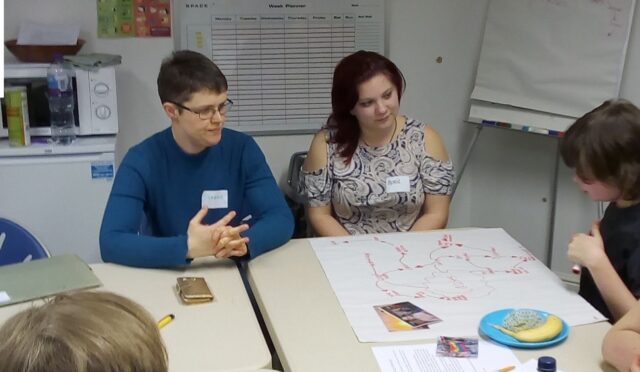 Covid-19
Things changed when Covid hit and the team had to work imaginatively.
They moved meetings online and used social media platforms to reach young people. They also collaborated online with local organisations to support more young people, 91% of whom told MAP they felt lonely during lockdown.
This helped the MAP team learn new skills.
Sarah said: "All our youth workers have now had social media training. We all spend time connecting with young people on social media platforms and emails, and there is so much more flexibility we can offer."

"I was also able to hold more campaign groups and one-to-one sessions because there was no travel time or physical prep to do. We'll continue to have this level of flexibility as we come up out of lockdown.
We're proud that our flexible funding approach, which now includes eight open and trusting grantmaking commitments with IVAR, allowed MAP to adapt and focus on the needs of the young people during lockdown.
The future
Despite challenges, the team at MAP have gone above and beyond to support young people, gaining confidence on digital platforms along the way.
The team will also instigate more consultation with young people, particularly around the impact of the pandemic.
Sarah says: "The Co-op Foundation gave us the opportunity, support and flexibility to change and adapt the way we delivered the service to respond to the impact of Covid. Their help was an important part of being able to reach and engage young people during lockdown."
Read more about going digital during covid in this story from our Building Connections Partner Ourside.  You can also read some top tips for remote youth work from our Building Connections Fund evaluators, NPC, as well as their full fund evaluation.