Learning from young people to tackle the stigma of loneliness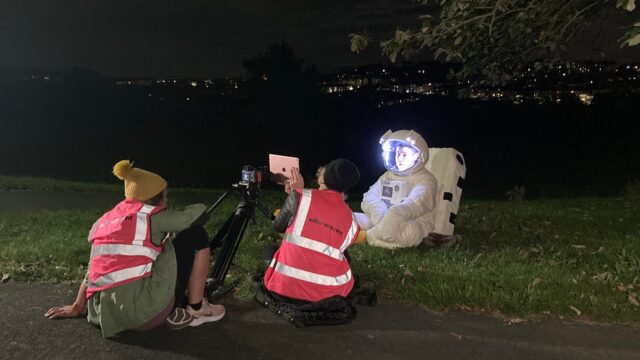 We believe long-term change happens when lived experience is put at the heart of decision making and when under-represented voices are raised so they can influence change. 
This is why, since 2019, we've been empowering young people to co-design our Lonely Not Alone campaign to tackle the stigma of loneliness among their peers.
I blogged recently about the incredible impact this campaign has had so far. In case you missed it, our research shows 3.1m young people have now seen Lonely Not Alone and 97% of this group have taken an action to help themselves or others.
And today, as a new group of young people come together to plan our 2022 work, we reflect on what we've learned.
Follow Lonely Not Alone on Twitter to keep up to date with our new campaign and to find out what our co-designers are up to this week.
Where it came from
Lonely Not Alone is the Co-op Foundation's first ever behaviour change campaign.
We developed it with young people as part of a wider programme of support to tackle youth loneliness. This has also seen us award £7m to youth projects and help to develop resources and networks for youth workers.
Our research shows work like this is important because chronic youth loneliness is on the rise. What's more, 85% of chronically lonely young people say feeling lonely negatively impacts on their wellbeing.
We were passionate from the outset that young people's lived experience should be central to our campaign. We believed this would make it more authentic for their peers and achieve longer-term impact that would deliver on Co-op's vision of 'Co-operating for a Fairer World'. Ellie from our co-design partner, Effervescent, blogged last year about what lived experience means and how it can support effective campaigning.
In year one, our young co-designers were recruited from Co-op Academies, youth groups and colleges mainly based in north west England. They decided what our campaign should be – including the name – and then helped to develop everything from animations to songs and media stories.
They've built on this every year since, asking us to share our yellow socks outfit of the day in 2020 and then read and share personal stories of loneliness to a digital universe last year.
We're proud to be custodians of Lonely Not Alone and delighted with the positive outcomes our young co-designers have achieved, too.
2022 activities
We're excited to start planning for Lonely Not Alone 2022 this week with 12 young people coming together for a creative residential in Derbyshire.
They'll spend the week getting to know each other, building relationships and skills and coming up with ideas on how to promote our digital universe to their peers. In line with our commitment to equality and equity, co-designers have been selected from a range of rural and urban locations, diverse backgrounds, age and genders. Check out exactly where everyone is based in this 'astronaut map'.
Good luck to everyone volunteering their time.
Work still to do
Co-op Foundation is passionate about becoming world class at learning and we're bringing this ethos to Lonely Not Alone.
Although we had overwhelmingly positive feedback to our 2021 campaign, our research also shows we have things to improve, including:
Young people who see Lonely Not Alone are significantly more likely to say they feel embarrassed or ashamed by loneliness than those who don't. We think this is because some young people who see our campaign who may not have previously realised they felt lonely.
Young people from rural communities and those who have less digital access are less likely to see our campaign and benefit from our work. Working with young co-designers from rural backgrounds will help us overcome this.
We have more work to do to reach students. Research shows this group have been particularly affected by loneliness over the past year.
We have lots to do but we're really excited about our campaign this year and confident we can make a real difference with young people in the lead once again.
Follow Lonely Not Alone 2022 on Twitter. You can also give online to support our work while Co-op Members can donate their Member Reward to the Foundation through the Co-op app.
We're also passionate about sharing our learning with others. Please do email me directly or connect on LinkedIn if you run a campaign and want to understand more about our data.
Co-op strengthening community mental wellbeing
We're proud that our work helps Co-op to deliver on its vision of 'Co-operating for a Fairer World'.
Visit Co-op's website to read more about its partnership with Mind, SAMH and Inspire to improve community mental wellbeing.