Young Scot puts young people at the forefront of combatting loneliness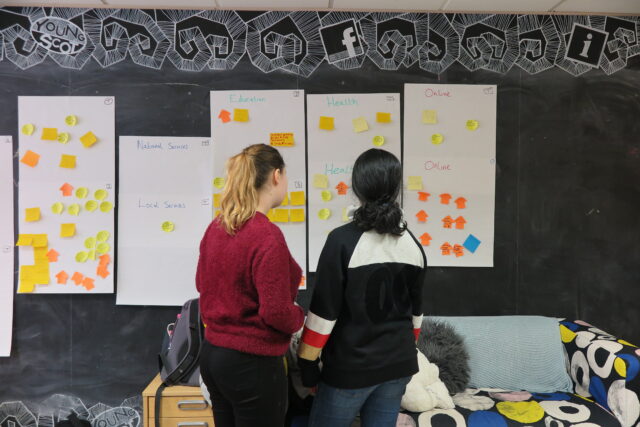 Young people in Scotland will be taking a local, national and digital approach to tackling loneliness for their peers, thanks to a £105,000 Co-op Foundation grant for Young Scot.
A group of 11 to 26-year-olds will be recruited to a panel, which will work with Young Scot to support local authorities and partners at a local level to combat youth loneliness.
The young people will engage with partners and co-design the 'National Youth Loneliness Approach' – helping to support young people's wellbeing and tackle loneliness and isolation. In addition, they will also advise on national strategy, working with the Scottish Government on developing the National Loneliness Approach.
They will also use their own experiences to inform both the design and content of the youth loneliness resources on Young Scot's young.scot website. They will do this by working together with other young people, the Scottish Government, local authorities and third sector partners, considering the needs of different communities and groups of young people.
Young Scot will begin recruiting for young volunteers to join the panel from 13 September. Visit Young Scot's Get Involved for more information. This Co-op Foundation funded project is committed to putting young people in charge and giving them the power to have their voices heard. Young people will also work as changemakers, building their confidence and learning new skills, all with Young Scot's support.
Kirsten Urquhart, Chief Executive (Interim) at Young Scot, said:
"We're thrilled to be continuing our partnership with the Co-op Foundation and supporting young people to take part in the Youth Loneliness Project – tackling youth loneliness across Scotland. The Co-op Foundation has invested in young people and supported a range of projects at Young Scot over the past 10 years. With this latest round of funding, they are once again supporting young people to create positive change in a way that fits their needs."
The Co-op Foundation is Co-op's charity. It helps people challenge inequality and co-operate for change so we can share a fairer future.
The Foundation has awarded more than 6.5m in grants to projects tackling youth loneliness across the UK since 2017, including a total of £345,000 to Young Scot.
Nick Crofts, CEO of The Co-op Foundation said:
"Our partnership with Young Scot has helped to connect and empower young people all over Scotland to tackle loneliness for themselves and their peers. Funding announced today will help to build on this success so young people can be at the forefront of local, national and digital work while also contributing to the new National Loneliness Approach. We're a proud partner of Young Scot and everything they have empowered their young people to achieve."
To find out more about opportunities with Young Scot, see their website.
Find out more about how the Co-op Foundation is tackling loneliness, including through its Lonely Not Alone campaign by signing up to the Co-op Foundation's blog.