Working in partnership to help homeless young people and those at risk of homelessness 
"I was always a motivated person, but with everything that happened with my family and college, I just lost all my confidence… Steps to Success and the people at Depaul were really patient with me. They gave me the push I needed. And now I have the job [and] the career that I wanted,"

Amelia, talking about the impact of Steps to Success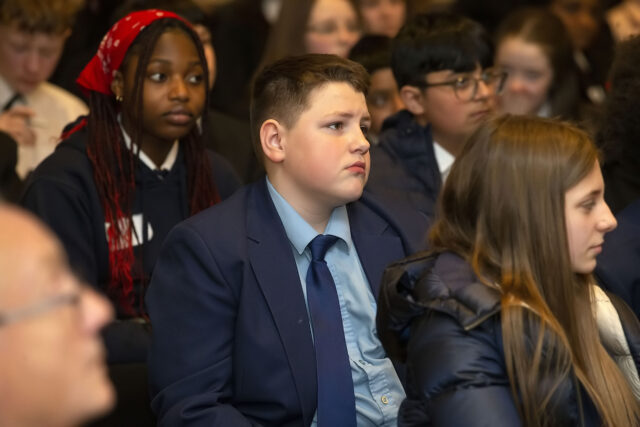 As the saying goes, prevention is better than cure.
This is why we recently entered into a £300,000 match-funding partnership with the Astra Foundation. This supports Depaul's National Schools Programme which helps and educates young people at risk of homelessness. It also supports their Steps to Success programme that helps those who are homeless to reach their goals and build an independent future.
The National Schools Programme is important to us because it looks specifically at loneliness and negative relationships as a risk factor of youth homelessness. This builds on our £7m funding into tackling youth loneliness and our Lonely Not Alone campaign.
The Steps to Success programme supports homeless young people into education, training and employment with the assistance of specialist progression coaches. This programme broadens and builds their support network, which helps them to develop the resilience to move forward with their lives.  
Ending the cycle of youth homelessness
Depaul has been on the frontline of providing shelter and support to vulnerable young people for more than 30 years. Research shows their work is needed more than ever. Between April 2020 and March 2021, nearly 122,000 young people faced homelessness in the UK.
The work they are doing equips and empowers young people at risk of homelessness, as well as helping those who are already homeless. It helps with a range of issues, including managing mental health problems, tackling loneliness, building healthy relationships and accessing education, employment and training.
It also develops young people's resilience and supports their capacity to make informed decisions when faced with risks. It ensures that they know how, when and where to ask for help, to avoid homelessness in the future.
Rachel is one young person who's benefited from the programme. She said:
"The staff were amazing and now I'm doing an access to university course in health science. I'm loving the course, and I feel so much better feeling like I'm doing something with my life."
It's great to know that Steps to Success is also co-designed with young people with lived experience. This is something we're passionate about as a funder with a co-operative difference.
Making an impact
Sarah Williams, Director of Philanthropy & Partnerships at Depaul, said Steps to Success was already helping young people at risk of homelessness. She said:
"We are so grateful to the Co-op Foundation and Astra Foundation for their joint commitment to end the cycle of youth homelessness and change the lives of those affected by it. Our partnership for the coming years will help stem the tide of young people ending up homeless and will support vulnerable young people into education, training and employment so they can build a brighter future."
Sarah Hale, Foundation Manager at the Astra Foundation, added:
"Depaul's preventative work in schools and in supported accommodation is vital in supporting young people who, for many reasons out of their control, face homelessness. By collaborating with Co-op Foundation, we maximise our impact through supporting more young people and minimise the duplication of reflective monitoring for Depaul."
Partnership working
Match-funding Steps to Success with the Astra Foundation has helped us to boost the impact of our funds and make Co-op Member donations go further. It's the second such partnership we've worked on together, after our support for the Belong Collective.
Louise Snelders, Head of Funding and Partnerships at the Co-op Foundation said:
"Depaul's work tackling the root causes of homelessness is helping us to build fairer and more co-operative communities. It is vital that young people are given every opportunity to build the best possible lives for themselves. Match funding with the Astra Foundation has meant that we have been able to help even more young people to avoid a future without a home."
Subscribe to our blog to find out more about our partners and our future funding opportunities.